Progress Report:

Grassroots Reforms

Fight Gerrymandering
At Ballot Box and In Court, Reformers Shake System
Seismic political forces across grass roots America are shaking the nation's political landscape on the hotly debated practice of partisan gerrymandering. Poll after poll shows that most American voters are fed up with politicians' rigging elections to keep themselves and their party in power through manipulating election district maps. Americans want a more level playing field and competitive districts that give voters genuine choice at the ballot box.
At present, partisan gerrymandering still operates in 35 states, but it is under fire and on the defensive – having been replaced by independent commissions or politically neutral bodies in 15 states; being targeted now or recently by grass roots reform movements in 7 more states; and challenged by lawsuits in 8 states. In some states, like Pennsylvania or Virginia, the challenge comes mostly from Democratic voters and lawmakers. But in other states, like Maryland, Republican Gov. Larry Hogan and Republican voters are the ones pressing for reform and filing suit.
In the 2018 elections, solid majorities of voters in four states – Ohio, Michigan, Missouri and Colorado – passed referendums throwing out the old partisan system. Voters in Michigan, Missouri and Colorado approved citizen-initiated reforms taking the job of redistricting away from the legislatures and turning it over to independent trans-partisan commissions. In Ohio, the reform plan mandated a bipartisan vote in the legislature on redistricting to prevent either major party from monopolizing the process. Another reform initiative in Utah hung in the balance in an extremely close vote
High Court Gives Green Light to Citizen Action
The green light for citizen action on reform came from the U.S. Supreme Court in an Arizona case in 2015. In a stunning 5-4 decision, the high court ruled that the voters of Arizona had the right and the authority to create an independent redistricting commission to map Arizona's Congressional districts and take that job away from the state legislature, which fought tooth and nail to hang onto that prerogative.
Arizona's Republican-dominated legislature filed suit challenging the constitutional legitimacy of the state's independent redistricting commission, which was established by a referendum of Arizona voters in 2000. The legislature argued that under the U.S. Constitution, the state legislature – and only the state legislature – was empowered to set the rules for elections. But the high court rejecting the legislature's lawsuit.
Writing for the 5-4 majority on June 29, 2015, Justice Ruth Bader Ginsburg asserted that "the animating principle of our Constitution is that the people themselves are the originating source of all the powers of government." In Arizona, the high court ruled, voters were exercising the state's legislative power through a popular referendum authorized by the Arizona constitution.

Florida Court Throws Out Stacked Deck
Ten days later, in a parallel case, the Florida Supreme Court struck down the partisan gerrymandering of Florida's congressional districts by the Republican-controlled legislature in 2012. In a 5-2 ruling, the court ordered that the maps and lines for eight congressional districts be redrawn within 100 days, forcing the legislature into special session.
In scathing language, the Florida high court approved a lower court's finding that the legislature's redistricting plan had been tainted by the "unconstitutional intent to favor the Republican Party and incumbent lawmakers." The court found that Republican Party "operatives" and political consultants "did in fact conspire to manipulate and influence the redistricting process" in cahoots with GOP legislators.
In Florida as in Arizona, the groundwork for court decisions was laid by grass roots citizen action. In 2010, Florida voters adopted two amendments to the state constitution that barred the drawing of legislative district lines "with the intent to favor or disfavor a political party or incumbent."
As a tenacious legal investigation and disclosure of private emails and documents later revealed, Republican legislative leaders defied the voters and engaged in a clandestine partisan gerrymander. In protest, the League of Women Voters, Common Cause and Fair Districts Florida filed suit. In July 2015, the Florida Supreme Court ruled that the legislature had carried out a "blatantly unconstitutional:" gerrymander and ordered redrawing of eight congressional districts and all 40 state senate districts.
When the legislature had trouble coming up with revised maps, lower courts stepped in to supervise the redrawing of election districts with the intent to make elections more competitive and give voters more choice. The new, court-ordered maps went into play for the first time in 2016 and produced some notable upsets in both parties, with political newcomers ousting long serving incumbents.
Shifting to Independent Commissions
In the Arizona decision, the U.S. Supreme Court highlighted the positive gains for voters achieved by using nonpartisan independent commissions. These commissions, the court noted, had created "more competitive" congressional districts, giving voters more choice in elections, and had eliminated the long-standing "conflicts of interest" of partisan legislators manipulating district lines to keep themselves in office.
As of now, seven states have instituted independent redistricting commissions – Alaska, Arizona, California, Idaho, Montana, Ohio and Washington. Two more states, Hawaii and New Jersey, have turned over redistricting to balanced bipartisan commissions with a court-appointed nonpartisan neutral chairman. In addition, Iowa uses a nonpartisan legislative services agency to redraw political districts every decade. And, of course, voters in Florida took the boldest action against partisan gerrymandering by simply making it unconstitutional to draw election maps that favor one party.
At the grass roots, a voter revolt has broken out. Reform coalitions that reach across the political spectrumhave been pressing for reform either through ballot initiatives or legislative action in 12 states – Colorado, Illinois, Indiana, Maryland, Michigan, Minnesota, Missouri, Ohio, Oregon, Pennsylvania, South Dakota and Utah. In red states as well as blue, citizen groups and legislators are using gerrymander reform, like term limits, as a means to dislodge incumbent politicians from getting a perpetual lock on power.
The Mounting Legal Challenge
For the past five years, fierce legal battles have been waged in eight states where partisan gerrymandering is most entrenched – Alabama, Florida, Illinois, Maryland, North Carolina, Pennsylvania, Texas, Virginia and Wisconsin. Federal appeals courts, backed by the U.S. Supreme Court, have ruled against what courts have determined is racial gerrymandering that dilutes the voting power of blacks and Latinos in Alabama, North Carolina, Texas and Virginia.
Typically, the targets of these lawsuits are ludicrously shaped districts where lawmakers have packed masses of opposition voters, usually minority voters, so that they can gain partisan advantage in other districts next door. In North Carolina, Republican lawmakers packed the black sections of Greensboro, and Charlotte at opposite ends of a stringy, worm-like district that snakes its way 90 miles down Interstate I-85, picking up blobs of black voting communities along the way. The Virginia GOP created a wiggly worm district down I-64 to include the black parts of Richmond, Norfolk and Virginia Beach. In Maryland, Democrats concocted a winning district that that looks like a jagged stick drawing of a long-legged bird, in flight.
These cartoon districts fly in the face of state constitutions or laws that require election districts to be compact, contiguous and respect existing county and city boundaries. Instead, mapmakers for both parties use any shape they can to string together their own voters in a winnable district. Or conversely, they pack as many opposition voters as possible into districts they figure they cannot win, and thus make their opponents waste votes in lopsided victories, while the in-party spreads its own voters around to win more districts.
Multiplying Lawsuits against Gerrymandering
The most frontal assault on the hoary practice of political parties manipulating election maps for their own advantage comes from citizen lawsuits in Wisconsin, North Carolina and Maryland. Voters form both parties in those states charge that they are being denied equal protection under the 14th Amendment and that their First Amendment rights are being undermined by partisan legislatures stacking the deck against the underdog party and its voters.
The first case against partisan gerrymandering, going beyond racial and ethnic gerrymandering, was brought by a dozen Wisconsin Democratic voters against the Republican-dominated state legislature. Appearing before the high court in October 2017, the Wisconsin plaintiffs argued that the GOP gerrymander was so unfair that it blocks Democrats from gaining a majority of legislative seats even when they win a majority of the vote. They cited 2012, when Democratic candidates for the state house won 52% of the popular vote but Democrats were relegated to only 39% of the seats. A three-judge appeals court ruled the Wisconsin gerrymander unconstitutional.
So pivotal was the Wisconsin case that prominent Republicans led by former GOP presidential nominees John McCain of Arizona and Robert Dole of Kansas and Ohio Governor John Kasich broke ranks with their party and filed a legal brief calling upon the Supreme Court to rule against extreme partisan gerrymanders. "Partisan gerrymandering has become a tool for powerful interests to distort the democratic process," McCain and the other prominent Republicans argued in their legal brief. But on a technicality the high court sent the case back to the federal district court for more evidence.
In Maryland, the fight against partisan gerrymandering is waged by a handful of Republican voters against the Democrats who dominated the state government during the gerrymander of 2011. Republican Gov. Larry Hogan, elected since then, has been on the warpath against Democratic gerrymandering in his state, declaring that the issue "is not right versus left but right versus wrong." The Supreme court sent that case, and another lawsuit by Democrats in North Carolina, back to lower courts for more argumentation. But those cases are already headed back to the high court for what could be a blockbuster decision on partisan gerrymandering.
Strong Medicine – The Top-Two Primary
California, Washington State and Louisiana have gone a step further for voters, by establishing non-partisan primaries, which give voters maximum choice by opening up primary elections and abolishing party control. The so-called Top-Two Primary is the most open of all – more open than so-called "open" primaries that let voters choose to vote either in the Democratic or the Republican primary, but then restricts them to only the candidates of that one party.
In the Top-Two primary, there is no limit on voters' choices. Citizens can v0te for any candidate, hopscotching form one party to the other and splitting their ticket if they wish, because all candidates, no matter what their party affiliation, run in the same non-partisan primary. For each office, the two candidates with the most votes – the Top-Two – advance to the general election, even if they come from the same party.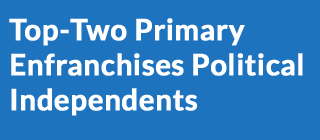 The major virtue of this system, in an era when a small turnout in party primaries often determines the ultimate winner, is that independent voters and members of minority parties now get to vote in what is often the decisive election. That helps to boost voter turnout and restore the political middle, proponents argue. Moderate candidates, with poor chances in a closed party primary, do much better in the Top-Two, where candidates need to appeal across party lines to all voters and thus move toward the political center.
The record in Washington State supports that argument. Since 2008, when Washington began using the Top-Two Primary, voting by the state's delegation to the U.S. House of Representatives has become more moderate. Voter turnout jumped from 2006 to 2010 and in subsequent elections, the Top-Two Primary enabled some moderate candidates in both major parties to win seats in Congress.
Gerrymandering – What's Happening in Your State ?
Alabama:
Alaska:
Arizona:
California:
Colorado:
Delaware:
Florida:
Georgia:
Hawaii:
Idaho:
Illinois:
Indiana:
Iowa:
Maryland:
Michigan
Minnesota:
Missouri:
Nebraska:
New Jersey:
New Mexico:
New York:
North Carolina:
Ohio:
Oregon:
Pennsylvania:
South Dakota:
Texas:
Utah:
Virginia:
Washington State:
Wisconsin: