Progress Report:

Grassroots Reforms

Fight Gerrymandering 
Courts Back Citizen Action vs. Gerrymandering
For American voters sick of politicians' clinging to power through partisan gerrymandering of election districts and eager for more competitive districts that give voters more choice, two stunning court decisions in 2015 gave the green light to grass roots reforms and reformers are on the move.
For while partisan gerrymandering still operates in 39 states, it is broadly on the defensive – replaced by independent commissions or politically neutral bodies in ten states; targeted by grass roots reform movements in nine more states;  challenged by lawsuits in six states; and completely outlawed by a voter referendum in Florida.
The most telling blow against the age-old game of partisan gerrymandering came in a surprising 5-4 decision by the U.S. Supreme Court affirming that the voters of Arizona had the right and the authority to create an independent redistricting commission to map Arizona's Congressional districts, instead of leaving that to the legislature.
The court rejected a lawsuit filed by Arizona's Republican-dominated legislature challenging the constitutional legitimacy of the independent redistricting commission, which was established by a referendum of Arizona voters in 2000. The legislature argued that it alone was given power by the U.S. Constitution to set the rules for elections. But the high court disagreed.
Writing for the 5-4 majority on June 29, 2015, Justice Ruth Bader Ginsburg asserted that "the animating principle of our Constitution is that the people themselves are the originating source of all the powers of government." In Arizona, the high court ruled, voters were exercising the state's legislative power through a popular referendum authorized by the Arizona constitution.

Florida Court Throws Out Stacked Deck
Ten days later, in a parallel case, the Florida Supreme Court struck down the partisan gerrymandering of Florida's congressional districts by the Republican-controlled legislature in 2012. In a 5-2 ruling, the court ordered that the maps and lines for eight congressional districts be redrawn within 100 days, forcing the legislature into special session.
In scathing language, the Florida high court approved a lower court's finding that the legislature's redistricting plan had been tainted by the "unconstitutional intent to favor the Republican Party and incumbent lawmakers." The court found that Republican Party "operatives" and political consultants "did in fact conspire to manipulate and influence the redistricting process" in cahoots with GOP legislators.
In Florida as in Arizona, the groundwork for court decisions was laid by grass roots citizen action. In 2010, Florida voters adopted an amendment to the state constitution that barred the drawing of legislative district lines "with the intent to favor or disfavor a political party or incumbent."
In the teeth of that popular vote, the Florida legislature ignored the new constitutional mandate and, as e-mails and other documents later revealed, engaged in a blatantly partisan gerrymander. In protest, the League of Women Voters, Common Cause and other citizens' groups filed suit and in July 2015, the Florida Supreme Court ruled that the legislature's action was tainted by "unconstitutional intent" and ordered redrawing of eight congressional districts.
Acting in October 2015 under the supreme court's mandate, Circuit Judge Terry Lewis approved a new redistricting map that scrambles several previously "safe" pro-Republican congressional districts. Rejecting the GOP-controlled legislature's third redistricting plan, Judge Lewis combined its remapping for north and central Florida with more radical changes proposed for south Florida by critics of GOP gerrymandering.  In the wake of the gerrymander reform, political analysts expect Democrats to pick up two or three more seats in Florida's congressional delegation, now numbering 17-10 in favor of Republicans.
Gerrymander Reform on the Move
In its Arizona decision, the U.S. Supreme Court highlighted the positive gains for American democracy achieved by nonpartisan independent commissions. These commissions, the court noted, had created "more competitive" congressional districts, giving voters more choice in elections, and had eliminated the long-standing "conflict of interest" of partisan legislators manipulating district lines to keep themselves in office.
As of now, seven states have instituted independent redistricting commissions – Alaska, Arizona, California, Idaho, Montana, Ohio and Washington. In addition, Iowa uses a nonpartisan legislative services agency to redraw political districts every decade, while Hawaii and New Jersey have turned over redistricting to balanced bipartisan commissions with a court-appointed nonpartisan neutral chairman. And, of course, voters in Florida took the most targeted action to stop partisan gerrymandering by passing a state constitutional amendment that explicitly outlaws redistricting plans drawn "to favor or disfavor" one political party over the other.
More reform is on the way. Reform coalitions that reach across the political spectrum are on the move in nine states – Colorado, Illinois, Indiana, Maryland, Minnesota, Nebraska, Oregon, Pennsylvania and South Dakota. In red states as well as blue, citizen groups and legislators are using gerrymander reform, like term limits, as a means to dislodge incumbent politicians from getting a perpetual lock on power.
Strong Medicine – The Top-Two Priority?
California, Washington State and Louisiana have gone a step further for voters, by establishing non-partisan primaries, which give voters maximum choice by opening up primary elections and abolishing party control. The so-called Top-Two Primary is the most open of all – more open than so-called "open" primaries, which let voters choose which party's primary to vote in, but then restricting them to choose among that one party's primary candidates.
In the Top-Two primary, there is no limit on voters'  choices. Citizens can v0te for any candidate, splitting their ticket if they wish, because all candidates, no matter what their party affiliation, run in one, non-partisan primary. For each office, the two candidates with the most votes – the Top-Two – advance to the general election.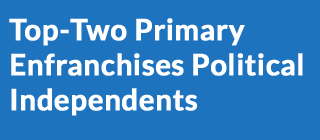 The major virtue of this system, in an era when a small turnout in party primaries often determines the ultimate winner, is that independent voters and members of minority parties now get to vote in what is often the decisive election. That helps to boost voter turnout and restore the political middle, proponents argue. Moderate candidates, with poor chances in a closed party primary, do much better in the Top-Two, where candidates need to appeal across party lines to all voters and thus move toward the political center.
The record in Washington State supports that argument. Since 2008, when Washington began using the Top-Two Primary, voting by the state's delegation to the U.S. House of Representatives has become more moderate. Voter turnout jumped from 2006 to 2010 and in subsequent elections, the Top-Two Primary enabled some moderate candidates in both major parties to win seats in Congress.
Taking Gerrymandering to Court
In seven states where partisan gerrymandering is most entrenched – Alabama, Florida, Maryland, North Carolina, Texas, Virginia and Wisconsin – it is being sharply challenged in court. In Maryland, Democrats are on the defensive, but elsewhere Republican legislatures are the ones being accused of illegally disenfranchising or marginalizing large groups of black or Latino voters.
Typically, the targets of these lawsuits are ludicrously shaped districts where lawmakers have packed masses of opposition voters, usually minority voters, for partisan advantage in neighboring districts. In North Carolina, Republican lawmakers packed the black sections of Durham, Greensboro, and Charlotte, into one 120-mile long district along I-85 that looks like a jagged falling tree branch. The Virginia GOP created a wiggly worm district down I-64 to include the black parts of Richmond, Norfolk and Virginia Beach. Florida Republicans created a snake-like district from Jacksonville down to Orlando. In Maryland, Democrats concocted a winning district that that looks like a weird stick drawing of a long-legged bird.
The case against Alabama, North Carolina, Texas and Virginia seeks to expose an implicit deal struck by Republican legislatures with black Democrats. By packing as many minority residents as possible into one or two districts, the legislature assures easy election for black or Latino Democratic incumbents, but also sets up safe Republican districts next door.
The legislatures contend that they have been trying to meet requirements of the 1965 Voting Rights Act to give minority voters a chance for representation in Congress. But their foes argue that Republicans have overdone it and in the process diminished the political rights of minorities in multiple districts.
For three years, these cases have laboriously worked their way through the courts, but in mid=2015, the U.S. Supreme Court sent cases back to Alabama and North Carolina for action by lower courts, throwing its weight behind the need for some correction for racial gerrymandering. And in Florida, the state's supreme court ordered that congressional district lines be redrawn in time for the 2016 elections.
Gerrymandering – Is Your State Doing Anything?
Alabama: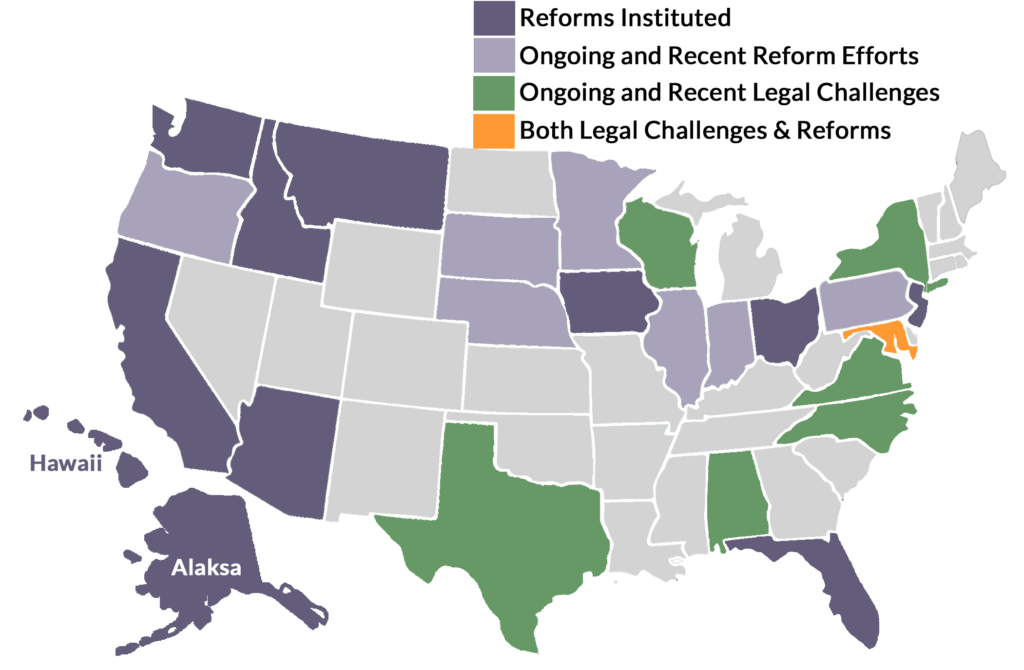 Alaska:
Arizona:
California:
Colorado:
Delaware:
Florida:
Hawaii:
Idaho:
Illinois:
Indiana:
Iowa:
Maryland:
Minnesota:
Nebraska:
New Jersey:
New Mexico:
New York:
North Carolina:
Ohio:
Oregon:
Pennsylvania: 
South Dakota:
Texas:
Washington State:
Wisconsin:
Issue Brief  Success Story Additional Readings  Organizations