Fix 

Gerrymandering :

States Adopt Progressive Reforms
At Ballot Box and In Court, Reformers Shake System
Seismic political forces across grassroots America are shaking the nation's political landscape on the hotly debated practice of partisan gerrymandering. Poll after poll shows that most American voters are fed up with politicians' rigging elections to keep themselves and their party in power through manipulating election district maps. Americans want a more level playing field and competitive districts that give voters genuine choice at the ballot box.
In the 2018 elections, majorities of voters in five states – Colorado, Ohio, Michigan, Missouri, and Utah – passed referendums throwing out the old partisan system. Electorates in Colorado, Michigan, Missouri, and Utah approved citizen-initiated reforms that take the job of redistricting away from the legislatures and turn it over to independent trans-partisan commissions. In Ohio, the voter-approved reform mandates a bipartisan vote in the legislature on redistricting to prevent either major party from monopolizing the process.
In all, 15 states have adopted laws to set up independent commissions or politically neutral bodies to carry out the task of drawing election district lines tome their fair to all parties and minority voters as wells the majority. Partisan gerrymandering still operates in 35 states, but it is under fire from grassroots reform movements in 7 more states; and has been challenged by lawsuits in 8 states. In response to a lawsuit, Pennsylvania's supreme court imposed gerrymander reform for congressional elections. starting in 2018 but that did not affect how districts are drawn for the state legislature.
But in June 2019, the U.S. Supreme Court flashed a red light against court-ordered reform and effectively sanctioned the rigging of elections by political parties when it rejected legal appeals that it overturn partisan gerrymanders by Democrats in Maryland and Republicans in North Carolina. With two Trump appointees bolstering a slim 5-4 majority, Chief Justice John Roberts wrote that lawsuits challenging the partisan gerrymandering – and upheld by lower courts – raised issues that were "beyond the reach of federal courts" and that wading into that issue would amount to "an unprecedented expansion of judicial power."
With her voice trembling as she spoke for the court's four dissenters, Justice Elena Kagan lamented in sad protest that the high court was abdicating its responsibility to settle a deeply divisive constitutional issue. "For the first time ever, this Court refuses to remedy a constitutional violation because it thinks the task beyond judicial capabilities."
The high court cast a shadow over lower court rulings that invalidated congressional and legislative district maps drawn by Republican-controlled legislatures in Michigan, Ohio, and Wisconsin, as well as North Carolina, and gave the green light for fierce partisan battles in the 2020 elections for control of state governments that will have the unrestricted power to draw new election maps in 2021 for Congress and all 5o0 state legislatures. The Supreme Court signaled to reformers that their only future hope for change lies in turning to state courts or mounting reform ballot initiatives in the 26 states that allow popular referendums.
High Court Gives Green Light to Citizen Action
The green light for citizen action on gerrymander reform came in 2015 from the U.S. Supreme Court decision in an Arizona case. With a stunning 5-4 ruling, the high court held that the voters of Arizona had the right and the authority to create an independent redistricting commission to map Arizona's Congressional districts despite a diehard attempt by the Arizona legislature to hang on to the power to redistrict election maps as the legislature's sole prerogative.
Arizona's Republican-dominated legislature filed suit challenging the constitutional legitimacy of the state's independent redistricting commission, which was established by a referendum of Arizona voters in 2000. The legislature argued that under the U.S. Constitution, the state legislature – and only the state legislature – was empowered to set the rules for elections. But the high court rejecting the legislature's lawsuit.
Writing for the 5-4 majority on June 29, 2015, Justice Ruth Bader Ginsburg asserted that "the animating principle of our Constitution is that the people themselves are the originating source of all the powers of government." In Arizona, the high court ruled, voters were exercising the state's legislative power through a popular referendum authorized by the Arizona constitution.

Florida Court Throws Out Stacked Deck
Ten days later, in a parallel case, the Florida Supreme Court struck down the partisan gerrymandering of Florida's congressional districts by the Republican-controlled legislature in 2012. In a 5-2 ruling, the court ordered that the maps and lines for eight congressional districts be redrawn within 100 days, forcing the legislature into a special session.
In scathing language, the Florida high court approved a lower court's finding that the legislature's redistricting plan had been tainted by the "unconstitutional intent to favor the Republican Party and incumbent lawmakers." The court found that Republican Party "operatives" and political consultants "did in fact conspire to manipulate and influence the redistricting process" in cahoots with GOP legislators.
In Florida as in Arizona, the groundwork for court decisions was laid by grassroots citizen action. In 2010, Florida voters adopted two amendments to the state constitution that barred the drawing of legislative district lines "with the intent to favor or disfavor a political party or incumbent."
As a tenacious legal investigation and disclosure of private emails and documents later revealed, Republican legislative leaders defied the voters and engaged in a clandestine partisan gerrymander. In protest, the League of Women Voters, Common Cause, and Fair Districts Florida filed suit. In July 2015, the Florida Supreme Court ruled that the legislature had carried out a "blatantly unconstitutional:" gerrymander and ordered redrawing of eight congressional districts and all 40 state senate districts.
When the legislature had trouble coming up with revised maps, lower courts stepped in to supervise the redrawing of election districts with the intent to make elections more competitive and give voters more choice. The new, court-ordered maps went into play for the first time in 2016 and produced some notable upsets in both parties, with political newcomers ousting long-serving incumbents.
Shifting to Independent Commissions
In the Arizona decision, the U.S. Supreme Court highlighted the positive gains for voters achieved by using nonpartisan independent commissions. These commissions, the court noted, had created "more competitive" congressional districts, giving voters more choice in elections, and had eliminated the long-standing "conflicts of interest" of partisan legislators manipulating district lines to keep themselves in office.
As of now, six states have instituted independent redistricting commissions – Alaska, Arizona, California, Idaho, Montana, and Washington. Two more states, Hawaii and New Jersey, have turned over redistricting to balanced bipartisan commissions with a court-appointed nonpartisan neutral chairman. Iowa uses a nonpartisan legislative services agency to redraw political districts every decade. And, of course, voters in Florida took the boldest action against partisan gerrymandering by simply making it unconstitutional to draw election maps that favor one party.
More reforms are being powered by voter revolts at the grassroots.  Citizen movements, reaching across the political spectrum, have been pressing to end partisan gerrymandering in 12 states, either through ballot initiatives or legislative action.  In addition to gerrymander reforms adopted by voters in Colorado Michigan, Missouri, Ohio, and Utah in 2018, other drives for reform have cropped up in recent years in Illinois, Indiana, Maryland, Minnesota, Oregon, Pennsylvania, and South Dakota. In red states as well as blue, citizen groups and legislators see gerrymander reform, like term limits,  as a way to dislodge incumbent politicians from a perpetual lock on power.
The Mounting Legal Challenge
For the past five years, fierce legal battles have been waged in eight states where partisan gerrymandering is most entrenched – Alabama, Florida, Illinois, Maryland, North Carolina, Pennsylvania, Texas, Virginia, and Wisconsin. Federal appeals courts, backed by the U.S. Supreme Court, have ruled against what courts have determined is racial gerrymandering that dilutes the voting power of blacks and Latinos in Alabama, North Carolina, Texas, and Virginia.
Typically, the targets of these lawsuits are ludicrously shaped districts where lawmakers have packed masses of opposition voters, usually minority voters, so that they can gain partisan advantage in other districts next door. In North Carolina, Republican lawmakers packed the black sections of Greensboro, and Charlotte at opposite ends of a stringy, worm-like district that snakes its way 90 miles down Interstate I-85, picking up blobs of black voting communities along the way. The Virginia GOP created a wiggly worm district down I-64 to include the black parts of Richmond, Norfolk, and Virginia Beach. In Maryland, Democrats concocted a winning district that looks like a jagged stick drawing of a long-legged bird, in flight.
These cartoon districts fly in the face of state constitutions or laws that require election districts to be compact, contiguous, and respect existing county and city boundaries. Instead, mapmakers for both parties use any shape they can to string together their own voters in a winnable district. Or conversely, they pack as many opposition voters as possible into districts they figure they cannot win, and thus make their opponents waste votes in lopsided victories, while the in-party spreads its own voters around to win more districts.
Multiplying Lawsuits against Gerrymandering
The most frontal assault on the hoary practice of political parties manipulating election maps for their own advantage comes from citizen lawsuits in Wisconsin, North Carolina, and Maryland. Voters from both parties in those states charge that they are being denied equal protection under the 14th Amendment and that their First Amendment rights are being undermined by partisan legislatures stacking the deck against the underdog party and its voters.
The first case against partisan gerrymandering, going beyond racial and ethnic gerrymandering, was brought by a dozen Wisconsin Democratic voters against the Republican-dominated state legislature. Appearing before the high court in October 2017, the Wisconsin plaintiffs argued that the GOP gerrymander was so unfair that it blocks Democrats from gaining a majority of legislative seats even when they win a majority of the vote. They cited 2012, when Democratic candidates for the statehouse won 52% of the popular vote but Democrats were relegated to only 39% of the seats. A three-judge appeals court ruled the Wisconsin gerrymander unconstitutional.
So pivotal was the Wisconsin case that prominent Republicans led by former GOP presidential nominees John McCain of Arizona and Robert Dole of Kansas and Ohio Governor John Kasich broke ranks with their party and filed a legal brief calling upon the Supreme Court to rule against extreme partisan gerrymanders. "Partisan gerrymandering has become a tool for powerful interests to distort the democratic process," McCain and the other prominent Republicans argued in their legal brief. But on a technicality, the high court sent the case back to the federal district court for more evidence.
In Maryland, the fight against partisan gerrymandering is waged by a handful of Republican voters against the Democrats who dominated the state government during the gerrymander of 2011. Republican Gov. Larry Hogan, elected since then, has been on the warpath against Democratic gerrymandering in his state, declaring that the issue "is not right versus left but right versus wrong." The Supreme court sent that case, and another lawsuit by Democrats in North Carolina, back to lower courts for more argumentation. But those cases are already headed back to the high court for what could be a blockbuster decision on partisan gerrymandering.
Strong Medicine – The Top-Two Primary
California, Washington State, and Louisiana have gone a step further for voters, by establishing non-partisan primaries, which give voters maximum choice by opening up primary elections and abolishing party control. The so-called Top-Two Primary is the most open of all – more open than so-called "open" primaries that let voters choose to vote either in the Democratic or the Republican primary, but then restricts them to only the candidates of that one party.
In the Top-Two primary, there is no limit on voters' choices. Citizens can v0te for any candidate, hopscotching from one party to the other and splitting their ticket if they wish, because all candidates, no matter what their party affiliation, run in the same non-partisan primary. For each office, the two candidates with the most votes – the Top-Two – advance to the general election, even if they come from the same party.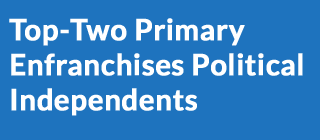 The major virtue of this system, in an era when a small turnout in party primaries often determines the ultimate winner, is that independent voters and members of minority parties now get to vote in what is often the decisive election. That helps to boost voter turnout and restore the political middle, proponents argue. Moderate candidates, with poor chances in a closed party primary, do much better in the Top-Two, where candidates need to appeal across party lines to all voters and thus move toward the political center.
The record in Washington State supports that argument. Since 2008, when Washington began using the Top-Two Primary, voting by the state's delegation to the U.S. House of Representatives has become more moderate. Voter turnout jumped from 2006 to 2010 and in subsequent elections, the Top-Two Primary enabled some moderate candidates in both major parties to win seats in Congress.
Gerrymandering – What's Happening in Your State?
Alabama:
Aug. 10, 2012 – Alabama's Legislative Black Caucus and other black Alabama officeholders file a lawsuit in federal court to try to block implementation of new legislative redistricting plans, claiming they "dilute minority voting strength, violate the principle of "one person, one vote" and illegally split Alabama counties among multiple legislative districts."
Dec. 2013 – A three-judge panel rules 2 to 1 that the 2012 redistricting process was constitutional, but the ruling is appealed.
March 25, 2015 – In a 5-4 vote, the Supreme Court rules in favor of the Alabama Legislative Black Caucus and the Alabama Democratic Conference and refers the case back to the district court for correction. The Supreme Court majority, the four liberals joined by conservative Justice Anthony Kennedy, ruled that the Alabama Legislature had relied too heavily on race in its 2012 redistricting plan and put too high a concentration of black voters in some districts. Justice Stephen G. Breyer, writing for the majority, states the lower court, in deciding on whether there was racial gerrymandering, should have looked at individual districts rather than statewide and should have used a different test in deciding whether the redistricting was done in conformity with the 1965 Voting Rights Act.
Aug. 25, 2015 – A three-judge federal court today asks plaintiffs who claim Alabama's legislative districts are racially gerrymandered to develop new maps for the state's 140 legislative districts that would strike a balance between protecting majority-black districts and yet not using race as the predominant factor. Over objections from Alabama's solicitor general, the judges indicate that some changes would be required. "I think you need to assume there is going to be some remedy here," said District Judge Keith Watkins.
Jan 20, 2017 – A federal appeals court rules that Alabama's Republican-run legislature violated U.S. Constitution by trying to preserve Republican supermajority in the legislature through illegal racial gerrymandering in at least 12 districts. The court decision is a big win for the state's Legislative Black Caucus, which for years has been fighting against the state's election district maps, which have intentionally limited the voting power of African Americans by packing them into a few oddly shaped districts. The court found that the mapping of these districts, all currently represented by Democrats and 10 of them by Black Democrats, was based "predominantly" on race. It ordered Alabama to redraw its voting maps before the next election in 2018. Rep Craig Ford, leader of the statehouse Democrats, urged Alabama to use this situation to replace its current system of partisan gerrymandering by the legislature with an independent trans-partisan commission.
Alaska:
Nov. 3, 1998 – A 52% majority of Alaska's voters, adopting for the first time an independent redistricting commission, approve a state constitutional amendment to establish the Alaska Reapportionment Board to draw boundaries for state house and senate districts. (Alaska has only one Congressional district.) All five members of the independent commission must be chosen without regard to party affiliation and none may be public officials or employees when appointed to the commission. The Governor chooses two commissioners, the state Senate and House majority leaders each choose one, and the Chief Justice of the Alaska Supreme Court chooses one.
Arizona:
Nov. 7, 2000 –By a majority of 56.1%, Arizona voters approve an amendment to the Arizona Constitution to create a five-member independent redistricting commission (AIRC) to map congressional and legislative districts. To deter partisan influence, Arizona's amendment bars the use of political party registration, voting history data, and residences of incumbents and other candidates in creating political districts. It excludes active partisan politicians by forbidding current or recent public officials, political candidates, or party officers from serving on the commission. The crucial balance of power on the commission is given to a political independent. To insulate the commission from party politics, the new system requires the commissioners to be chosen from a panel pre-selected by State Commission on Appellate Court Appointments with 25 nominees – 10 Democrats, 10 Republicans, and 5 independents. From that panel, four commission members are appointed by the majority and minority leaders of Arizona's two legislative chambers, and these four commissioners select the fifth member. The amendment specifies that politically "competitive districts" are favored so long as the districts are of equal population, geographically compact, contiguous, coincide roughly with census tracts, city or county boundaries, or natural geographic features.
October 2001 – Arizona's Independent Redistricting Commission, chaired by political independent Steven Lynn and with two Republican and two Democratic members, completes its first redistricting plan without controversy.
Spring 2011 – By adding 1,261,585 people to its population since 2000, Arizona gains a ninth congressional seat, intensifying interest in redistricting for 2011.
Oct. 4, 2011 – Arizona's Independent Redistricting Commission completes its new congressional map, with four districts considered safe for Republicans, two safe for Democrats, and three highly competitive. The plan is approved by a 3-1 vote from AIRC Chair Colleen Mathis and two Democratic commissions. One Republican commissioner votes No; the other abstains.
Nov. 1, 2011- With Tea Party and hard-line Republicans angrily claiming that Arizona's new redistricting plan favors Democrats, Republican Governor Jan Brewer, orders impeachment and removal of the AIRC's independent chair Colleen Mathis. In a straight party-line vote, the Arizona state Senate votes 21-6 to approve the governor's action, as required by law. State law allows removal of a commissioner "for substantial neglect of duty, gross misconduct in office, or inability to discharge the duties of office." Mathis files a legal appeal.
Nov 17, 2011 – In a swift and unanimous 5-0 decision, Arizona Supreme Court rules that the governor's firing of Mathis is illegal and orders that Mathis be reinstated as AIRC chair.
June 6, 2012 – Arizona Legislature files suit in federal court, challenging the legitimacy of the Arizona Independent Redistricting Commission. Its suit argues that the Elections Clause of U.S. Constitution states that "[t]he Times, Places and Manner of holding Elections for Senators and Representatives, shall be prescribed in each State by the Legislature thereof" and that no other body can assume this function. Attorneys for the independent commission contend that in the popular referendum of 2000 establishing the Independent Redistricting Commission, the people of Arizona were exercising legislative power granted them by the Arizona constitution.
Nov 6, 2012 – Under the AIRC redistricting plan, Democratic candidates win all three of the competitive congressional districts, giving Democrats a 5-4 edge over Republicans in the state's congressional delegation. Republicans carry four safe GOP districts and Democrats carry their two safe districts.
Feb. 2014 – A three-judge federal appeals court dismisses the Arizona legislature's lawsuit against the Arizona Independent Redistricting Commission. The legislature appeals to the U.S. Supreme Court.
Oct. 2, 2014 – U.S. Supreme Court agrees to hear the Arizona case. Reform advocates fear the worst, reasoning that the Supreme Court would not have taken the case unless several justices were already prepared to overrule the appeals court decision. "If the Court strikes down Arizona voters' right to create an independent redistricting commission as an alternative to the legislature drawing the maps, it will set a dangerous precedent that undermines Americans from using direct democracy to enact change when legislators refuse to do so," asserted Kathay Feng, national redistricting director for Common Cause.
March 2, 2015 – Supreme Court hears oral arguments in Arizona case with Chief Justice John Roberts and Associate Justices Antonin Scalia and Samuel Alito sounding sympathetic to the Arizona legislature's argument. Justices Sonia Sotomayor, Ruth Bader Ginsburg, Elena Kagan, and Stephen Breyer are more skeptical. The question mark is Justice Anthony Kennedy.
June 29, 2015 – In a blow to partisan gerrymandering and a decision with sweeping implications for political reform across the U.S., the Supreme Court rules in favor of Arizona's Independent Redistricting Commission. The court holds that Arizona's voters were entitled to try to make the process of drawing congressional districts less partisan by creating an independent commission. Writing for 5-4 majority, Justice Ruth Bader Ginsberg asserts that the Constitution's reference to the "legislature" encompasses the concept of citizens exercising legislative power since the Arizona constitution granted that power to the electorate through popular referendums. "The animating principle of our Constitution," Ginsburg wrote, "is that the people themselves are the originating source of all the powers of government." Writing in dissent, Chief Justice Roberts asserted that cutting the legislature entirely of the redistricting process violated the Constitution. Justice Anthony Kennedy, casting the swing vote, is evidently swayed by personal experience as a voter and law professor in California, where he had seen citizen initiatives work to overcome the self-interested actions of the legislature.
Jan. 21, 2016 – The Open and Honest Coalition, led by two former mayors of Phoenix, launches a drive for a popular vote to amend the Arizona constitution to replace the state's party primaries with a single non-partisan primary, open to all voters, including independents. Candidates from all parties, plus political independents, would run in that one primary, with the two top vote-getters moving on to compete in the general election. John Opdyke, president of Open Primaries, says his group has donated $1 million to the citizen initiative and will work to raise another $13 million to back two measures – reform of the state's party primary system and a companion measure to help expose dark money flowing into campaigns for state offices and congressional seats. Texas billionaire John Arnold is identified as the primary donor to the campaign.

April 30, 2016 – U.S. Supreme Court unanimously endorses legislative redistricting map drawn in 2011 by state's independent redistricting commission, rejecting challenge by Republicans that the plan was biased in favor of Democrats. In 2009-10, Republicans held a 21-9 majority in state senate and 40-20 majority in the house. In 2012, after redistricting based on the 2010 census, GOP majorities fell to 17-13 in the senate and 36-24 in the house. Republicans said redistricting hurt them. Justice Stephen Breyer, writing for the court, dismissed the charge that the commission had engaged in partisan redistricting. He credited the commission with meeting legal requirements to protect the rights of minority voters and if Republican voters were 'likely" to be worse off, this "may well reflect the tendency of minority populations in Arizona … to vote disproportionately for Democrats."
Arkansas:
California:
Nov. 4, 2008 – In a historic move, California voters approve Proposition 11 (The Voters First Act), an initiative for a constitutional amendment that shifts the power to redraw the boundaries of state legislative districts and districts for the state Board of Equalization from the California legislature to a new 14-member Citizens Redistricting Commission—effective in 2011. Four previous efforts at similar reforms had failed in 1982, 1984, 1990, and 2005, but the push in 2008 earns the backing of Republican Governor Arnold Schwarzenegger. But the 2008 reform leaves the drawing of Congressional district lines in the hands of the legislature.
June 8, 2010 – By a 54%-46% majority, California voters approve the Top-Two Primaries Act, an amendment to the state constitution requiring that all candidates for state political offices run in a single primary open to all registered voters, with the top-two vote-getters meeting in a runoff. A similar measure had failed in a popular vote in 2004. Proponents contend that by exposing all candidates to all voters, there is a greater chance that more moderate members will be elected to Congress and the California State Legislature.
Nov. 2, 2010 – California voters pass Proposition 20, which expands the power of the state's independent Redistricting Commission to draw congressional district boundaries as well as state legislative districts. Prop 20 is vigorously opposed by House Speaker Nancy Pelosi of San Francisco and other congressional Democrats including 15-term Rep. Howard Berman of Los Angeles, both of whom want the Democratic-controlled state legislature to do congressional redistricting. But they are overcome by a powerful citizens movement sparked and heavily funded by Charles Munger Jr. (son of investment banker Charles Munger), who spent more than $12 million of his own money to pass Prop. 20.
Aug. 15, 2011 – California's new 14-member citizens redistricting commission completes redrawing of maps for the state's 53 congressional districts and 120 legislative districts. A commission composed of five Democrats, five Republicans, and four members from neither major party adopts district lines that redraw boundaries of old districts, merging some and inevitably pitting some members of the same party against each other. Independent studies by the Public Policy Institute of California, the National Journal, and Ballotpedia find that California now has some of the most competitive districts in the nation.
Nov 6, 2012 – California's new redistricting plan and Top-Two Primary system pit same-party candidates against each other in nine of the state's 53 congressional districts, including seven races fought between two Democrats. There were also 19 same-party races in the state legislature, 12 rated as highly competitive. Political commentators see some candidates adopting less extreme positions and shifting toward more centrist voter appeal. "What we've noticed is candidates in California playing to a wider ideological audience as a result of the top-two primary, instead of tailoring their message to a very narrow base," says David Wasserman of the Cook Political Report. Also, more than a dozen Republican candidates in contested races refuse to sign a traditional GOP pledge vowing no new taxes. But in the new Top-Two Primary, some candidates seem afraid of offending Democratic voters with a rigid anti-tax stance.
Jan. 23, 2015 – The California Citizens Redistricting Commission (CRC), fearing that its own existence and authority is jeopardized by a lawsuit challenging the constitutionality of the Arizona Independent Redistricting Commission, files an amicus brief with the U.S. Supreme Court supporting the Arizona commission.
June 29, 2015 – The U. S. Supreme Court's 5-4 ruling rejecting the Arizona legislature's legal challenge to that state's independent redistricting commission, has the effect of also endorsing California's citizen commission.
Colorado:
Nov.18, 2015 – Bipartisan coalition led by former Governors Dick Lamm (D) and Bill Owens (R), former Colorado House Speakers Frank McNulty (R) and Mark Ferrandino (D), and current Senate Pro-tem President Ellen Roberts (R) file initiative calling for reform of congressional redistricting. In place of the legislature, their plan would set up a 12-member commission with four Republicans, four Democrats, and four independents to draw congressional district lines. Commission would be required to conduct its business in open hearings and map-drawing to be done by non-partisan professional staff. Once the plan is certified by the Colorado secretary of state, the coalition must gather 98,492 signatures to put the reform initiative on the ballot for November 2016.
July 5, 2016 – Colorado Supreme Court bars bipartisan ballot initiative for gerrymander reform on technical grounds, saying that measure improperly combines reform of both legislative and congressional districts in one ballot measure, and they should have been dealt with in separate measures. The group End Gerrymandering Now, which had collected 50,000 of the 98,492 signatures needed to qualify for the 2016 ballot, vowed to be back with another effort in 2018. "We knew the status quo wouldn't go quietly," the campaign said in a statement. "The establishment has too much to lose if the people have a stronger voice."
March 27, 2018 – Two reform groups, Fair Districts Colorado and People Not Politicians, climax six months of negotiations by agreeing on reform plan to combat partisan gerrymandering in Colorado by turning over job of drawing election district maps to a 12-member commission including 4 Republicans, 4 Democrats, and 4 independent voters. The plan would require the commission and its non-partisan staff to create politically competitive districts that would be likely to flip from the control of one party to the other at least once a decade. That would supplant the current system where one party or other has dominated some districts for many elections. The plan could be put on the November ballot either by a popular petition drive or by approval of the Colorado legislature.
May 18. 2018-Led by Colorado's bipartisan legislative leadership, state lawmakers put on November ballot for a popular vote a proposal to create a new trans-partisan commission to take over responsibility for drawing state's election districts to prevent partisan gerrymandering. The plan, developed by two reform groups, Fair Districts Colorado and People Not Politicians, proposes two amendments to the Colorado constitution to explicitly prohibit gerrymandering. They would establish an independent redistricting commission, composed of 4 Republicans, 4 Democrats, and 4 independents, charged with overseeing the creation of politically competitive, non-partisan election districts. The constitutional reform measures require that all maps be approved by a super-majority of eight commission members, giving independent unaffiliated voters the balance of power over the two major parties.
Nov. 18 – A landslide 70%-plus majority of Colorado voters adopt two amendments to the state constitution to remove the power of politicians to draw maps for the state's congressional and legislative districts and to give that task to a new 12-member tripartite commission of 4 Democrats, 4 Republicans, and 4 political independents. The political overhaul, drafted by citizen reformers and given bipartisan approval by the legislature, requires the commission to create "competitive" election districts that have "a reasonable potential for the party affiliation of the district's representative to change at least once" every decade. The initial map-drawing would be done by a non-partisan staff, tasked not only with seeking to assure fairness but also with keeping intact communities of interest, such as racial or ethnic groups, as well as political subdivisions, such as cities and counties. The staff maps would be submitted to the 12-member commission. For adoption, all maps must be approved by a super-majority of eight commission members, giving swing weight to political independents.
Delaware:
Florida:
Nov. 2, 2010 –By a 62% super-majority, Florida voters pass two "Fair District" constitutional amendments, measures 5 and 6, that outlaw partisan gerrymandering in both state legislative and congressional districts intended to kelp keep incumbents in office or favor one party over the other. The path to passage was steep. A citizens movement, led by the League of Women Voters, Common Cause, and Fair Districts Florida, collected 1.7 million signatures on petitions to get the gerrymander reform initiatives on the ballot and then needed a 60% super-majority vote for adoption. The movement overcomes both these hurdles and then writes very specific legal standards into the state constitution mandating that "No apportionment plan or district shall be drawn with the intent to favor or disfavor a political party or an incumbent."
Feb. 9, 2012 – Republican legislature ignores constitutional amendment and adopts a partisan redistricting plan, concocted in secret to circumvent the new ban on gerrymandering. Masses of emails, documents, and electronic district maps with code names like Frankenstein, Sputnik, and Schmedloff are disclosed in 2014 court hearings, exposing a clandestine plot by Republican legislative leaders conspiring with campaign consultants and strategists who sub rosa create congressional and state legislative maps to favor GOP candidates. The Republican operatives use seemingly independent citizens to submit these plans to the Republican-controlled state legislature to convey the appearance of political impartiality. Documents are forced into the open by a Florida circuit judge, citing the need to determine "the intent" of Florida lawmakers in adopting the 2011 redistricting plans.
Nov. 6, 2012 – Democratic candidates win nearly half the popular vote in Florida's congressional races, but the GOP still wins 17 of the state's 27 Congressional seats. By packing Florida's snake-shaped 5th district with a super-majority of black voters, Republican gerrymandering concedes an easy victory to Rep. Corrine Brown (D), a member of the Congressional black caucus, but boosts the competitive edge of Republican candidates in surrounding districts.
July 10, 2014 – Florida Circuit Court Judge Terry Lewis, responding to a lawsuit by citizens groups including Common Cause and the League of Women Voters, rules the state's 2012 congressional redistricting was unconstitutional. In his decision, Lewis writes, "Republican political consultants or operatives did in fact conspire to manipulate and influence the redistricting process. They made a mockery of the Legislature's proclaimed transparency and open process of redistricting by doing all of this in the shadow of that process, utilizing the access it gave them to the decision-makers, but going to great lengths to conceal from the public their plan and their participation in it." Setting an August 15 deadline, Judge Lewis orders the state legislature to redraw the map for two congressional districts, the 5th (held by a Democrat) and the 10th (held by a Republican).
Aug. 15, 2014 – In a rare summer special session, Florida legislators complete a hasty fix by shifting 368,000 voters in north and central Florida into new congressional districts and slightly redrawing the lines of seven districts. The Florida House and Senate vote for the revised map along party lines, though a few Jacksonville Democrats vote with Republicans to protect a heavily Democratic and black majority for 5th district Rep. Corrine Brown. Gerrymander experts say revisions are minor and do not alter GOP tilt. "A lot of furniture has been rearranged but it looks like the old house with the same rooms," says Michael McDonald, political scientist and redistricting expert at the University of Florida.
Aug. 25, 2014 – Judge Terry Lewis upholds legislature's revisions to congressional districts but says they will not take effect until the 2016 election. Judge Lewis rules that the original 2012 gerrymandered district lines, which he found unconstitutional in July, shall be used for the 2014 election because there is so little time left for campaigning.
July 9, 2015 – In a stunning 5-2 decision, the Florida Supreme Court rejects political gerrymandering by state legislators and orders eight congressional districts redrawn within 100 days. The justices concur with Judge Lewis's finding that a 2012 redistricting map drawn by the Republican-led legislature had been "tainted by unconstitutional intent to favor the Republican Party and incumbent lawmakers," and that Republican "operatives" and political consultants "did in fact conspire to manipulate and influence the redistricting process." Court ruling gives instructions to the legislature on how to correct three districts around Miami, Tampa Bay, and in north Florida around Jacksonville, as proposed by citizens groups who filed the lawsuit. Although court orders directly affect only eight districts, specialists expect that more than half of Florida's 27 congressional districts will be affected because redistricting is a jigsaw puzzle.
August 2015 – Florida Senate leadership publicly admits that the senate violated the law by engaging in partisan gerrymander in 2011 and promises to comply with the supreme court ruling. But in a special legislative session to redraw senate district maps, the senate and house cannot agree. They each submit wholly different plans for court review along with competing plans from attorneys for Common Cause and League of Women Voters.
Oct. 9, 2015 – Judge Terry Lewis approves and sends to the Florida Supreme Court a new redistricting map for state's 27 congressional districts that will make up to ten districts more competitive and that has the potential to unseat at least three sitting members of Congress. Judge Lewis accepts the legislature's revised district maps for north and central Florida, that complied with supreme court instructions. But a judge rejects legislature's maps for south Florida, substituting the more radical remapping proposed by the civic groups that filed the anti-gerrymandering lawsuit. Their plan, the judge decides, "best complies" with the state supreme court's directions. Some legislative leaders are disgruntled but challengers claim a "victory for the people Florida and for restoration of representative democracy." Florida Supreme court approves redistricting plan on December 2.
Dec 30, 2015 – Circuit Court Judge George S. Reynolds III rejects legislature's redistricting plan for state senate districts and adopts rival plan submitted by Common Cause and League of Women Voters. That plan will make more of the state's 40 senate districts competitive. The overall map is so altered that Republicans, who have dominated Florida legislature since the 1990s and currently hold 26-14 Senate majority, go into 2016 elections facing 21 new senate districts that were carried by President Obama in 2012. Commenting on the potential impact of various court rulings on redistricting, University of Florida gerrymander expert Michael McDonald, says: "Expectations are that Democrats will probably win up to two, maybe three seats out of Congress above where they are currently at, and they may win maybe 3-4 more seats out of the (Florida) senate."
Jan. 15, 2016 – Florida Senate's Republican leadership, after considering more court appeals, announces that it will no longer contest the court-ordered redistricting plan for the senate, admitting that the legislature's 2011 gerrymander had been illegally drawn.
Nov. 8, 2016 – In the first election after the imposition of court-enforced remapping of a dozen Congressional districts, five incumbent members of Congress are replaced. In the Orlando area, former Orlando Police Chief Val Demings wins a seat previously held by Tea-Party Republican Dan Webster who saw a change in his district's voter balance and moved to another, safer district. In another redrawn district near Winter Park, political newcomer Democrat Stephanie Murphy scores a stunning upset victory over 12-term Republican conservative John Mica.
April 30, 2017- Further Democratic gains in Florida's congressional delegation may be "foreshadowed by decision of 15-term incumbent Republican Rep. Ileana Ros-Lehtinen not to seek re-election in 2018 with her district redrawn under gerrymander reform.
Nov. 6, 2018- In the second election under court-enforced gerrymander reform, the political balance in Florida's congressional delegation continues to shift. In south Florida, Democrats Debbie Mucarsel-Powell and Donna Shalala win the redrawn 26th and 27th congressional districts, previously held by Republicans Carlos Curbelo and Ileana Ros-Lehtinen. That changes the balance of Florida's House delegation from 17 Republicans and 10 Democrats in 2015, before reform, to a new balance of 14 Republicans and 13 Democrats.
Georgia:
April 24, 2017 – The state of Georgia is accused of racial gerrymandering in a suit claiming that the state legislature redrew the boundaries of two Atlanta-area election districts in 2015 to guarantee re-election of white incumbents by increasing the percentage of white voters. The suit, filed by the Lawyers Committee for Civil Rights Under Law, claims that the legislature moved minority voters out of districts 105 and 111 to protect incumbent Republican state representatives Joyce Chandler and Brian Strickland. Chandler's District 105 and Strickland's District 111 have been two of the most competitive in the 180-member House. Kristen Clarke, President of the Lawyers Committee, contended that in redrawing district lines, the legislature sought to "reduce the ability of African-American and other minority voters to elect candidates of their choice."
Oct. 3, 2017 – Eleven Georgia voters file a legal challenge to the state legislature's 2015 redistricting law, charging that the law "specifically targets districts where white Republicans have become increasingly vulnerable to challenge by African-American Democratic candidates." The new suit, generated by the National Redistricting Foundation headed by former U.S. Attorney General Eric Holder, contends that racial politics was "the predominant factor" for the legislature as it remapped the boundaries of two districts in the Atlanta area where white Republican incumbents face increasingly sharp challenges from black Democratic candidates. Republicans had a strong majority in both houses of the legislature in 2015 when the boundaries of 17 districts were redrawn.
Hawaii:
1968 – Hawaii's independent redistricting commission, known simply as The Hawaii Commission, is created by a State Constitutional Convention, prompted by a 1965 U.S. district court order invalidating the state's senate apportionment scheme as a violation of the U.S. Constitution's equal protection clause. An amendment to Article IV of the Hawaii Constitution gives exclusive authority to an independent, bipartisan nine-member commission to determine congressional and legislative district boundaries with the proviso that no district may be drawn so as to unduly favor a person or political faction. Eight commission members are appointed by the legislative leaders of the majority and minority parties, four to each party. Those eight members choose the ninth, tie-breaking member, but if they deadlock, as often happens, the ninth member is chosen by the state supreme court. In 2011, the court named Victoria Marks, a retired judge and professional mediator.
Idaho:
1993 – Idaho Legislature passes SJR 105 that creates a constitutional citizen's body, the Commission on Reapportionment, in charge of drawing the legislative and congressional districts in Idaho.
Legislature passes SJR 105 that creates a constitutional citizen's body, the Commission on Reapportionment, in charge of drawing the legislative and congressional districts in Idaho.
Nov. 8, 1994 – By a 64% majority, Idaho voters adopt a constitutional amendment establishing an independent, bipartisan six-member commission to draw the maps of the state's political districts. No commission member can have served as an elected official, legislative district representative, or state party officer for the past two years or can have been a registered lobbyist during the previous year. To maintain a bipartisan balance, one commission member is chosen by each of the following – majority and minority leaders of both houses of the state legislature and the chairs of the Republican and Democratic parties. Idaho law states that oddly-shaped districts are disfavored and the creation of bizarrely-shaped districts in order to string together voters of a particular race will be struck down by the courts if race was the predominant factor in creating the districts.
Illinois:
Indiana:
Jan. 12, 2015 – Indiana's legislative leaders introduce bill to study how to reform Indiana's gerrymandering of political district lines. Similar legislation passed the Indiana House in 2014, but failed in the Senate. This time, Republican Senate President Pro-tem David Long and Republican House Speaker Bryan Bosma join with Democratic minority leaders Senator Timothy Lanane and Representative Scott Pelath, to con-sponsor reform bill. "We need to move on this discussion and I think this is the year to do that," Senator Long tells the media. Critics have complained that gerrymandering by the Republican-dominated legislature in 2011 was so stacked in favor of incumbents that in 2014, 44 House seats were not even contested, a fairly typical pattern in recent elections. "I don't think right now the way we do our redistricting has credibility with the public," comments Senator Lanane. "People assume we draw squiggly lines for the party in power. It's all about politics – not democracy. We need to change that perception and that reality."
May 4, 2015 – Indiana Gov. Mike Pence signs law calling for a bipartisan committee to study best way to reform Indiana's redistricting system and whether it will require amendment to the state constitution, which authorizes the legislature to do redistricting. With strong bipartisan backing, a reform bill setting up a study committee passes by 153-95 in the House and 43-7 in the Senate. Governor and legislature were pushed to move by a broad reform movement – the Coalition for Independent Redistricting. Spearheaded by Common Cause and the League of Women Voters, the coalition also includes the Indiana Farmers Union, Central Indiana Jobs with Justice, ACLU Indiana, Citizens Action Coalition of Indiana, NAACP Indiana, Hoosier Environmental Council and others.
Oct. 1, 2015 – Interim study committee on redistricting holds initial meeting, sets agenda, and fixes Dec. 1, 2016 as the deadline for its final report, pushing redistricting issue beyond 2016 election,
March 7, 2016: Democratic-controlled Lafayette City Council and the West Lafayette City Council, and the all-Republican Tippecanoe County Board of Commissioners unanimously pass resolutions urging Interim Committee on Redistricting to endorse the idea of a citizen-led redistricting commission in its final report. Previously Michigan city council endorsed the resolution, promoted by the League of Women Voters. The measure calls for a citizen commission to oversee redistricting of Indiana's legislative and congressional districts while respecting; one-vote, one person; the Voting Rights Act of 1965, as well as mapping districts that are compact, contiguous and respect local communities of interest.
Iowa:
1980 – In a near-unanimous vote, Iowa legislature passes House File 707 to take partisanship out of redistricting and to give responsibility for drafting redistricting plans to a nonpartisan state agency, the Legislative Services Agency. LSA, which is instructed by law not to consider party registration, past votes, or other political data, is tasked with formulating a complete redistricting plan for submission to the legislature without the involvement of any elected officials or politicians. Iowa law requires the districts to be created on the basis of four criteria: equal population, contiguousness, compactness, and respect for political subdivisions. "This puts the voter as the primary consideration," says Ed Cook, the agency's legal counsel. "The basic concept is if it's a blind process, the result will be fair
The Iowa legislature, which holds hearings on redistricting, can approve or reject the LSA staff's congressional redistricting plans, but lawmakers cannot amend or alter the plan. If the LSA plan is rejected twice by lawmakers, the legislature can then amend or substitute for the third staff plan but must also win the approval of the governor. In practice, Iowa's four-member congressional delegation comes out evenly split – two Democrats and two Republicans – in 2014, reflecting the almost dead-even party registration. Iowa has more political independents than either Democrats or Republicans.
Maryland:
Michigan
Minnesota:
March 19, 2002 – The Minnesota supreme court, forced to intervene by legislative gridlock, issues new maps for Minnesota's congressional and legislative districts. Following the 2000 census, the state legislature sought to carry out redistricting, but with control in the two houses divided between Democrats and Republicans, the legislature failed to reach an agreement on redistricting. That sends the issue to the courts.
May 19, 2011 – Democratic Gov. Mark Dayton vetoed the redistricting maps drawn up by the Republican-dominated state legislature for Minnesota's congressional and legislative districts. The Minnesota Supreme Court appointed a judicial panel to drawn the lines. the Panel issues its map on Feb. 21, 2012 and, according to The Almanac of American Politics, the new map "radically rearranged state legislative seats."
March 2015 – Fearing the loss of congressional seat after the 2020 census and a new gridlock over redistricting, Democratic and Republican lawmakers draft plan to create new five-member commission of retired state judges to create a redistricting plan. Their proposal would allow the legislature to accept or reject but not modify, but if it rejects the first two proposals, it must accept third proposal. Plan authored by Democratic State Senator Kent Eken has backing of some Republican lawmakers and Secretary of State Steve Simon who argues that Minnesota should fix its redistricting system well before 2020 census kicks off new partisan battles over redistricting.
Missouri:
May 19, 2017 – Clean Missouri, a coalition of progressive groups with financial backing from the Missouri teachers union, launches petition drive to put on 2018 election ballot a measure to achieve a non-partisan system for mapping state legislative districts. Clean Missouri is pushing for a popular vote on a constitutional amendment that would mandate the use of a nonpartisan expert to draw maps, a new statistical model to ensure partisan fairness in the redistricting process. and a 70% vote of a legislative redistricting commission to overrule the nonpartisan expert.

The ballot measure, approved for circulation by the Secretary of State, would also impose a new $2,500 limit on campaign contributions by individuals or groups to candidates for the state legislature with a maximum donation of $5 by paid lobbyists; establish a two-year cooling-off period before a former members of the legislature could become lobbyists, and would prohibit fundraising by candidates or members of the state legislature on state property.
May 3, 2018 – The Clean Missouri reform movement submitted 346,956 signatures to the Secretary of State's office, more than enough to qualify its initiative petition for the November 2018 ballot. State law requires at least 160,199 signatures to qualify. A key provision of the Clean Missouri reform package is aimed at ensuring that neither political party could gain an unfair advantage by stacking the maps of election districts after the 2020 censuses. It would require that legislative district maps be drawn by a nonpartisan expert, using very specific data to ensure partisan fairness, and mandate a 70% by a legislative redistricting commission to overrule the nonpartisan expert. The Clean Elections proposal would also lower campaign contribution limits for state legislative candidates, bar lobbyists from donating more than $5, establish a two-year cooling-off period before state officials could become lobbyists, and require that legislative records be open to the public.
The petition drive stirred wide public support. "We're not waiting on the politicians and lobbyists to fix themselves," said Jeff Jones, a fourth-generation farmer in Callaway County. "We can all see how big money drives the agenda in Jefferson City, and we've had enough." Not only Democrats and independents, but some Republican officeholders backed the reform."The Clean Missouri amendment will make sure legislators focus on important priorities, not what special interests and extremists want," said former Republican state senator Bob Johnson. "Voters should be able to hold politicians accountable in fair and competitive general elections."
Aug 2, 2018- Missouri Secretary of State Jay Ashcroft certifies the ballot initiative of Clean Missouri calling for major political reforms for a popular vote in the November election. Under Clean Missouri, a nonpartisan expert would take over the process of drawing Missouri House and Senate election district lines, aided by a politically independent demographer. The proposal districts would be reviewed by a citizen commission to ensure they are politically competitive. The proposed districts would be reviewed by a citizen commission to ensure they're competitive. IF approved, the new process would begin with the redrawing of election districts after the 2020 census.
Sept. 14, 2018- Cole County Circuit Judge Daniel Green orders a Clean Missouri reform initiative be stricken from the November election ballot on grounds that the proposed amendment to the Missouri Constitution violates a constitutional provision that limits the scope of initiative petitions to a single subject and to amending only one article of the state constitution. Cole said the ballot initiative contained multiple reforms.
Sept. 21, 2018- Three-judge state appeals court gives green light for a popular vote in November on Clean Missouri's sweeping proposal to reform the state's political ethics laws and alter the state's redistricting system. Overturning a lower court decision that temporarily blocked a popular vote, the appeals panel found that even though the ballot measure addresses redistricting reform, ethics and limits on lobbyists' campaign donations, "we conclude that the petition's multiple provisions all relate to a single central purpose: regulating the legislature to limit the influence of partisan or other special interests." The legal go-ahead came just in the nick of time, as election officials prepared to circulate ballots overseas for military voters and for absentee voters.
Nov 21, 2018 – With an eye to preventing politicians in the legislature from stacking future elections by manipulating election district maps in their own favor, a solid 62% majority of Missouri voters approve an omnibus reform measure drafted by the Clean Missouri, a grassroots citizen reform coalition. Passage means that the next mapping of Missouri's election districts, after the 2020 census, will be done not by the legislature but by a nonpartisan expert, the state demographer, whose maps would be submitted for approval by a citizen commission. The reform replaces the old closed-door partisan gerrymandering with a transparent public process aimed at ensuring that no party is given unfair advantage; at protecting minority representation; and at creating compact, contiguous and politically competitive districts. The Clean Missouri measure also imposes lower limits on campaign contributions for state legislative candidates, bars lobbyists from donating more than $5, establishes a two-year cooling-off period before state officials can become lobbyists, and requires that legislative records be open to the public.
May 15, 2020- Republican super-majorities in the Missouri legislature steamroll passage of a measure to derail  the "Clean Missouri" gerrymander reform passed in 2018 by 62% of Missouri voters and put their anti-reform measure on the ballot for another popular vote next November. The legislature's anti-reform plan trashes the 2018  non-partisan rules for election maps, abolishes the post of non-partisan demographer, and puts map-making back in the hands of politicians. Moreover, Republican strategists added a new wrinkle, the brainchild of the mastermind of Republican gerrymandering, the late computer guru Thomas Hofeller. To bolster the odds for the GOP,  Hofeller urged that election district maps be based not on total population, as has always been done, but on the much smaller universe of eligible voters, thus favoring white voters and reducing the share of minorities and young people. This approach was too extreme for 15 Republican lawmakers who defected and voted against the measure with the small band of Democratic lawmakers. After its passage, the nonpartisan citizens movement Clean Missouri cried foul and immediately dubbed the legislature's plan, "Dirty Missouri," setting up a battle royal in the fall election.
Nov 3, 2020- Two years after a 62% majority of Missouri voters adopted an election reform to de-politicize the drawing of the state's election maps, 51% of the state's voters reverse course and back an initiative to gut the 2018 reform and restore the former partisan gerrymander system.  The blacklist measure was engineered by state legislative leaders, angered at having lost in 2018 to the non-partisan citizen reform, a movement known as Clean Missouri, which crafted and passed a plan to create an independent state demographer to draw up legislative district maps. To entice voters to re-establish the age-old politics-driven gerrymandering process, the Republican lawmaker included  provisions to eliminate lobbyists gifts to lawmakers and a $100 reduction in the limits on contributions for state senate races. But the primary aim of its measure was to make sure that the reform plan was never used and to get Missouri back to the age-old practice of elected politicians drawing the maps for their own legislative districts.
Nebraska:
April 13, 2016 – By a bipartisan 29-15 vote, Nebraska's unicameral legislature adopts a redistricting reform bill designed to reduce partisan gerrymandering by setting up a nine-member bipartisan Independent Redistricting Citizens Advisory Commission to redraw maps for the state's congressional, legislative and judicial districts. Reacting to sharp controversy over partisan redistricting by the Republican legislature in 2011, the new plan contains strong prohibitions that future redistricting plans "shall not deliberately or inappropriately" draw district lines "to favor any one individual, group, political party or incumbent officeholder." To insulate redistricting from partisan influence of sitting politicians and party leaders, the Nebraska plan bars any state or local officeholder, party official, or lobbyist from serving on the commission. When the first nine-member commission is set up in 2021, after the next census, the then-governor's party would get five seats and the minority party, four seats. The commission's redistricting plans would be subject to an up-or-down vote in the legislature and approval or veto by the governor. Rejection would send the process back to the independent commission for another try.

Voting yes were 17 Republicans, 11 Democrats, and one independent. All 15 "No" votes were cast by Republicans. The bill must now be signed by Gov. Pete Ricketts whose office was reported to have privately lobbied against the bill. Supporters mustered a 35-11 vote to shut down a filibuster by dissident Republicans. Its co-sponsors, Democrat Heath Mello and Republican John Murante said that the new plan "separates the maps from the politicians" and will create "more transparency and more confidence" in the redistricting process.
April 18, 2016 – With time running out on the legislative session, Gov. Pete Ricketts vetoes gerrymander reform, contending that the plan violates Nebraska's constitution, "which requires the Legislature to conduct legislative redistricting; not anyone else." The 28,000-member Nebraska Education Association urges senators to override the veto. The bill's Democratic co-sponsor, Senator Heath Mello says he's "disappointed but not surprised." Republican co-sponsor John Murante decides against trying for an override, but signals he'll attempt reform in the next session. "The good news," he said, "is that we have time to do so."
New Hampshire:
March 28, 2019 – New Hampshire Senate votes 14-10 in favor of legislation to create 15-member independent commission to draw maps for state congressional and  legislative district maps and to submit their plan to the state  legislature for final approval. It was a party-line vote in the senate, controlled by Democrats. The current election district maps were drawn in 2012 by the then Republican-controlled legislature. That plan was initially vetoed by  Democratic Gov. John Lynch but the Republican-led legislature overrode his veto. Advocates of the independent commission criticized the current system for putting lawmakers in charge of drawing their own election maps with boundaries to benefit the party in power. "Representatives and senators should not choose their voters, voters should choose their representatives," said Sen. Shannon Chandley, D-Amherst.  Republicans, opposing the reform, argued that the state Constitution requires the legislature to set election districts and that the Legislature shouldn't outsource its responsibilities to a commission.
Aug. 11, 2019 – Republican Gov. Chris Sununu vetoes bipartisan legislation to set up independent, nonpartisan commission to redraw the state's congressional and legislative district maps in 2021 and beyond. Sununu said he was vetoing the bill to establish a 15-member commission-free of recent lobbyists and elected officials — to redraw district maps because it would create a commission of members who were "unelected and unaccountable to the voters." Sununu added that the gerrymander reform measure was backed by out-of-state organizations that favor Democrats. "Legislators should not abrogate their responsibility to the voters and delegate authority to an unelected and unaccountable commission selected by political party bosses," Sununu said. Reform advocates suggest that Sununu's veto could backfire against New Hampshire Republicans, who are now the minority party in the state legislature, and Sununu who is up for re-election in 2020. "With his veto, the governor is throwing out a plan that would ensure Republicans are treated fairly in the next round of redistricting even if Democrats do well in next year's elections," said Yurij Rudensky of New York University's Brennan Center for Justice.
New Jersey:
New Mexico:
March 2012- Santa Fe voters pass a charter amendment to create an Independent Citizens' Redistricting Commission to draw maps for Santa Fe City Council districts. Previously, the City Council members drew their own districts, a practiced attacked as a political conflict of interest by reform advocates such as Common Cause. The new seven-member redistricting commission, to be appointed by the city clerk's office, will be comprised of local residents who will hear input from local communities and work with residents to draw new district lines.
New York:
Nov. 18, 2011-Contending that New York State's redistricting system is" broken," a bipartisan group of community leaders files suit asking a federal court to intervene and override the prolonged deadlock between Democratic Gov. Andrew Cuomo and state legislative leaders. After the 2010 census, New York state dropped form 29 to 27 congressional seats, setting off a political battle. Legislative leaders remapped congressional districts but Cuomo vowed to veto their plan. The governor proposed an independent commission but the legislature refused. In their lawsuit, the plaintiffs complain that the process "has stalled and threatens to throw the state's 2012 elections into a quagmire, absent court intervention."
March 19, 2012 – A three-judge federal panel, deploring what it called the "unwelcome failure of state government," imposes a court-drawn revision of New York's Congressional districts. The plan, drafted by a magistrate judge aided by an academic expert, was adopted urgently by the three judges because candidates can start qualifying for party primaries within a week. The court plan dismantled a Hudson-Valley district represented by retiring Democrat Maurice Hinchey and another in Brooklyn-Queens represented by Republican Bob Turner who is running for the U.S. Senate. In their ruling the three federal judges noted that the magistrate judge had taken just two weeks to devise a plan that lawmakers "have been unable, or unwilling, to provide New York State voters in more than a year."
North Carolina:
July 2013 – Three-judge panel of North Carolina superior court judges unanimously upholds the legislative redistricting plan adopted by Republican-dominated legislature in 2011. The panel concludes that although the race was considered by state legislature in drawing district lines, that was done to comply with the 1965 federal Voting Rights Act. Groups challenging the redistricting plan, which gave great advantage to Republican candidates in 2012 congressional and legislative races, immediately appeal to the state supreme court, saying the lower court misinterpreted the Voting Rights Act.
Dec. 19, 2014 – North Carolina Supreme Court affirms lower court ruling in favor of redistricting plan passed by Republican-dominated state legislature in 2011. Court says plan was constitutional, rejecting a legal challenge by a coalition of organizations that contended the GOP mapping plan was racially gerrymandered. Plaintiffs vow to appeal to U.S. Supreme Court.
April 20, 2015 – U.S. Supreme Court overturns North Carolina supreme court decision in redistricting case and sends the case back to state court for further hearing. High court specifically directs the North Carolina court to re-hear the case "in light of Alabama Legislative Black Caucus v. Alabama," another case where the U.S. Supreme Court in late March rejected a lower court ruling, saying that the lower court's reasoning on racially oriented redistricting was "legally erroneous." High court implies there are parallels with the North Carolina case, in which civil rights groups argue that Republican lawmakers drew districts after the 2010 census with the intent of marginalizing Democratic-leaning black voters.
Feb. 5, 2016 – In a powerful ruling with implications for other states, a three-judge federal court rules unanimously that the 2011 Republican gerrymandering of North Carolina's congressional districts was unconstitutional. Court majority determines that the state's first and twelfth congressional districts were illegally packed with black voters and gives the state legislature a tight, two-week deadline to redraw district lines, potentially affecting adjacent districts, too. "There is strong evidence that race was the only nonnegotiable criterion and that traditional redistricting principles were subordinated to race," writes 4th U.S. Circuit Court of Appeals Judge Roger Gregory. In a concurring opinion, district judge Max Cogburn comments bluntly that "elections should be decided through a contest of issues, not skillful mapmaking" but "today, modern computer mapping allows for gerrymandering on steroids," so that parties engage in "mapping their way to victory."
Feb.19- With its appeal to the U.S. Supreme Court denied, North Carolina legislature generates new partisan gerrymander of congressional districts aimed at assuring GOP 10-3 edge in House seats despite rough parity between Democrats and Republicans in popular votes statewide. "We live in North Carolina not North Korea, " protests Democratic State Sen Josh Stein. "The voters should choose their representatives not the other way around." New maps seemed destined for another court fight.
Aug. 5, 2016 – Common Cause and voters from all 13 of North Carolina's congressional districts file new lawsuit charging that Republican legislature's court-ordered remapping of the state's congressional districts in 2016 was "one of the worst partisan gerrymanders in modern American history" and asking federal courts to find this action unconstitutional. Previous suits have charged unconstitutional racial bias in North Carolina's gerrymandering. But this suit alleges that voter rights are being unconstitutionally violated because "even if Democratic candidates earn a majority of the statewide vote, the (legislature's redistricting) plan will enable Republican candidates to win ten of thirteen seats." In 2012, the suit says, 51% of North Carolina voters cast ballots for Democratic congressional candidates, but Republicans won 9 of the state's 13 seats, profiting unfairly from how they had drawn the district maps. In 2014, the suit adds, Democrats won 44% of the state's congressional vote but elected only 23% of North Carolina's House members (three of 13). The lawsuit, joined by the state's Democratic party, quoted State Rep. David Lewis, Republican chair of the House redistricting committee, as stating: "We want to make clear that we are going to use political data in drawing this map. It is to gain partisan advantage on the map."
Aug. 11, 2016 – Federal appeals court panel strikes down 28 of North Carolina legislative districts – 19 in the house and 9 in the senate – as an "unconstitutional racial gerrymander" carried out by the Republican-led state legislature in 2011. Three appeals judges allow existing districts to be used for 2016 elections, fearing change at this late stage in the campaign would disrupt election process. "Nonetheless," asserts Judge James Wynn, writing the majority opinion, "plaintiffs and thousands of other North Carolina citizens have suffered several constitutional harms stemming" from legislature's "creation of 28 districts racially gerrymandered in violation of equal protection clause" of 14th Amendment to U.S. Constitution.
Sept. 22, 2016 – League of Women Voters and a dozen North Carolina Democrats file suit challenging partisan basis of state legislature's gerrymander of congressional districts as unconstitutional because it denies Democrats equal protection of the laws. Lawsuit seeks to establish an empirical standard for defining an unconstitutional partisan gerrymander, based on an empirical standard – an arithmetic measure of the majority party's forcing the opposition party to "waste" votes, thus denying voters equal weight or equal protection. Suit argues that the Republican legislature packed super-majorities of Democrats into a few districts – far more than needed to win – and simultaneously spread other Democrats among districts that Republican lawmakers made sure they would win, meaning a much higher percentage of wasted Democratic votes than Republican wasted votes. Under the legal formula developed by University of Chicago Law Professor Nicholas Stephanopoulos and Eric McGhee of the Public Policy Institute of California, "A gerrymander is simply a district plan that results in one party wasting many more votes than its adversary." The suit contends that the Republican-orchestrated gerrymander of 2011 had an extreme margin of wasted votes in 2012 and 2014 elections that "exhibited pro-Republican partisan biases larger than 25 percent— by far the worst in North Carolina's modern history and at the far edge of the nationwide distribution."
Nov 30, 2016- Federal appeals court gives North Carolina legislature a deadline of March 15, 2017 to redraw the boundaries of 28 legislative districts that the judicial panel found unconstitutional last August. The court order mandates a special election in those 28 districts in November 2017, cutting short the terms of legislators elected from those districts. The appeals panel agreed with more than 30 plaintiffs that the disputed district has illegally high concentrations of black and Latino voters.
April 3, 2017 – Federal district judge overturns North Carolina legislature's 2015 gerrymandering of election districts city of Greensboro. Judge Catherine Eagles ruled the legislature had abrogated the U.S. Constitution by racially gerrymandering one city council district; by violating the "one person, one vote" doctrine by packing voters into certain districts and diluting their voting power; and by treating Greensboro voters differently from voters in all other North Carolina communities by prohibiting Greensboro voters from changing the city's method of election by petition and referendum.

May 22, 2017- U.S. Supreme Court rules that North Carolina's Republican legislature unconstitutionally relied upon race in drawing two of the state's 13 congressional districts. It affirms a lower court ruling that previously threw out the racially discriminatory districts and required a remedial map in 2015, signaling other states such as Alabama, Texas, and Virginia that Supreme Court will not tolerate racial discrimination in drawing election district maps. In addition, this decision clears the way for the high court to accept and rule on another lawsuit challenging the remedial map on grounds that in 2015, North Carolina districts were gerrymandered for partisan motives, to favor Republican candidates."This decision lays the groundwork for the challenge to the Republican remedial map," said Marc Elias, a Democratic elections attorney. "They weren't going to rule on the [partisan gerrymandering] case until they heard and decided on the merits of the [racially gerrymandering] case."

June 4, 2017 –Supreme Court rules unconstitutional the Republican legislature's 2011 gerrymandering of more than a score of state legislative districts. Affirming an appeals court panel, high court asserts that the legislature relied too much on race as a factor in drawing the lines of 28 state legislative districts.
July 27,2017 – Fifty weeks after declaring that North Carolina legislature's mapping of 28 election districts had violated constitutional rights of black voters, a three-judge federal panel voiced impatience with the state for not fixing the problem, as the court ordered in August, 2016. "You don't seem serious," declared Judge Catherine Eagles. Judge James Wynn warned North Carolina that the court might appoint its own special master to redraw the maps of the tainted districts.
Oct 16, 2017 – North Carolina's Republican-led legislature, already ordered by federal courts to fix illegal racial gerrymandering, is now charged with one of worst partisan gerrymanders in U.S. history. Three-judge federal panel hears suit by League of Women Voters, Common Cause, and others asserting that with fairly even splits in popular votes in recent elections for Congress, Republicans manipulated election district maps to give GOP a 10-3 majority of state's congressional seats. Suit quotes Rep. David Lewis, GOP chair of statehouse redistricting committee, as saying he wanted maximum Republican advantage and settled for 10-3 GOP tilt only "because I do not believe it's possible to draw a map with 11 Republicans and two Democrats.

Nov. 1 – Three-judge federal appeals panel, impatient with legislative stalling, names a special master to redraw election maps for nine legislative districts to cure unconstitutional racial bias in maps drawn by Republican-led legislature. Earlier the court had rejected the legislature's own proposed fix as inadequate and now takes the matter out of the legislature's hands. "The State is not entitled to multiple opportunities to remedy its unconstitutional districts," the court rules. It names Stanford University law professor Nathaniel Persily, a specialist in election law, to do the remapping and sets a tight deadline of December 1. The court wants new district maps effective for the 2018 election.

Dec. 2, 2017- Republican legislative leaders accuse federal court of "thinly veiled political operation" favoring Democrats after the court appointed a non-partisan academic expert to redraw election district boundaries that the court had found unconstitutionally discriminated against black voters. The court gave the state legislature the first chance at fixing its own maps but, dissatisfied, the court named Stanford law professor National Persily to redraw maps for nine state legislative districts. After Persily submitted his maps, Rep. David Lewis and Senator Ralph Hise protested that "this entire 'judicial process' is little more than a thinly-veiled political operation where unelected judges, legislating from the bench, strip North Carolinians of their constitutional right to self-governance by appointing a left-wing California professor to draw districts handing Democrats control of legislative seats they couldn't win at the ballot box." Attorneys for the Southern Coalition for Social Justice. which filed the lawsuit on behalf of African American voters in 28 districts, largely endorsed the court-ordered maps. A three-judge panel will hear the case on Jan. 5.
Jan. 9, 2018 – Three-judge appeals court strikes down Republican gerrymandering of North Carolina's 13 congressional districts, ruling that it unconstitutionally violates First and Fourteenth Amendment rights of Democratic voters. In a sharply worded decision that condemned the GOP legislature for acting "with invidious partisan intent," the court barred North Carolina from holding another congressional election under the current maps. It gave the state legislature until January 24 to draw new district boundaries. Previously, the Fourth Circuit court had tossed out the maps drawn in 2011 on grounds it was racially discriminatory but today's decision goes further. Writing for the 2-1 majority that rejected the maps redrawn in 2016, Circuit Judge James A. Wynn Jr. declared: "Partisan gerrymandering runs contrary to numerous fundamental democratic principles and individual rights enshrined in the Constitution."
Jan 18, 2018- U.S. Supreme Court puts temporary block on lower court order requiring North Carolina legislature to redraw maps of state's 13 congressional districts which lower court ruled were unconstitutionally drawn to favor Republican candidates. The lower court had ordered Carolina district maps redrawn by late January in time for the 2018 election. But high court stay means 2018 elections will be held under maps that have given GOP 10-3 advantage in House seats.
June 25, 2018 – Supreme Court sends North Carolina gerrymander lawsuit back to the lower court to determine proper standing of Democratic plaintiffs in the case.
Aug. 27, 2018 – A three-judge federal court once again rules that North Carolina's congressional districts lines were unconstitutionally drawn by the state's Republican-led legislature in 2011 to favor Republican candidates. Responding to the U.S. Supreme Court, the three-judge panel validates the standing of the plaintiffs and affirms its decision last January that had rejected the maps for the state's 13 congressional districts as illegal partisan gerrymandering. Rep. David Lewis, the Republican chair of the legislative redistricting committee, had said openly the maps were drawn to favor GOP candidates."I think electing Republicans is better than electing Democrats, So I drew this map to help foster what I think is better for the country," Lewis said in 2016. "I propose that we draw the maps to give a partisan advantage to 10 Republicans and three Democrats, because I do not believe it's possible to draw a map with 11 Republicans and two Democrats."  But the court found that the Republican gerrymander unconstitutionally diluted the power of Democratic voters, violating their First Amendment rights.
Nov 6, 2018 – With election district maps still rigged by Republicans, Democratic candidates wind up with only 23% of the state's congressional seats even though they win a 50.8% majority of the statewide popular vote for Congress. By contrast, Republican candidates win only 47.8% of the popular vote but stacked election maps help them garner 10 of North Carolina's 13 congressional seats, or 76.9% of the total.
Jan 4, 2019- In a case that could lead to landmark ruling, US Supreme Court agrees to hear arguments challenging legality of North Carolina Republican redistricting plan struck down by federal appeals court,  and a parallel case charging Maryland Democrats with gerrymandering congressional district maps. Each case charges that First Amendment rights of minority party voters have been violated. In past cases, high court has sidestepped a clearcut decision on whether partisan gerrymandering violates the U.S. Constitution, but critics keeping bringing suits. "Whether it is Democrats or Republicans manipulating the election maps, gerrymanders cheat voters out of true representation," said Karen Hobert Flynn, national president of Common Cause, which filed suit against the North Carolina gerrymander.  "The Supreme Court has the opportunity to set a clear standard that will restore a meaningful vote to millions of Americans disenfranchised by gerrymanders in Maryland, North Carolina and across the country."
Feb 13, 2019 – In a bold move to combat partisan gerrymandering, a broad bipartisan coalition of legislators proposes turning over redistricting in North Carolina to an 11-member independent commission – four Republicans, four Democrats and three independents.  Their proposal bar drafting election maps "for the purpose of favoring a political party, incumbent legislator or Congress member." It would also outlaw the use of political or election data on voters, which is.the most important ingredient of partisan gerrymanders.  More than half the lawmakers in the 120-member state assembly signed as co-sponsors, including the Asssembly's Republican whip Jon Hardister and deputy Democratic leader Robert Reives. To ensure a fair balance in future election maps, a redistricting plan would need the support of eight of the 11 commission members, including at least two Republicans, two Democrats, and two independents, before being submitted to the full legislature for ratification.https://lrs.sog.unc.edu/bill-summaries-lookup/H/69/2019-2020%20Session/H69
June 27, 2019 – U.S. Supreme Court overturns lower court ruling that invalidated Republican gerrymandering of North Carolina's congressional districts and left pro-Republican partisan maps in place. With two Trump appointees bolstering a slim 5-4 majority, Chief Justice John Roberts wrote that lawsuit challenging the partisan gerrymandering – and upheld by lower courts – raised issues that were "beyond the reach of federal courts." Roberts contended that for the high court to wade into that issue would amount to "an unprecedented expansion of judicial power." Democratic voters and non-partisan citizen reform groups in North Carolina had contended that Republican gerrymandering diluted the value of Democratic voters, violating their rights under the 1st and 14th amendments to the U.S. Constitution. A three-judge lower court panel agreed, but while Supreme Court justices deplored the state's extreme partisan gerrymandering, the high court majority declared it was powerless to remedy the situation. The majority said the solutions lie in hands of voters and courts at the state level. speaking for the four dissenting justices and with her voice trembling, Justice Elena Kagan accused the high court majority of abdicating its responsibility to settle a deeply divisive constitutional issue. "For the first time ever, this Court refuses to remedy a constitutional violation because it thinks the task beyond judicial capabilities," Kagan asserted.
Sept. 3, 2019 – Three-judge state superior court panel strikes down Republican redistricting plan for state house and senate elections, declaring that it violates the North Carolina state constitution's provisions for free elections, free speech and equal protection. In the first state  court decision since the U.S. Supreme Court declined to rule on partisan gerrymandering, three Wake County judges ruled that the GOP-controlled legislature had with  "surgical precision" diluted the value of Democratic votes to ensure that the Republican Party would win majorities in both legislative chambers "in all but the most unusual election scenarios." The court gave the legislature two weeks to create new nonpartisan district maps for the 2020 election.  In a 350-page ruling, the judicial panel found that "the 2017 enacted maps, as drawn, do not permit voters to freely choose their representative, but rather representatives are choosing voters based upon sophisticated partisan sorting."  Republican state Senate leader Phil Berger, a key architect of the redistricting plan, decried the court's decision as an attempt to "game" the redistricting process but signaled that GOP lawmakers would abide by the decision and carry it out.
Sept. 17, 2019 – Under court order, Republican-led state legislature adopts new election maps that experts find less partisan that the old ones but still skewed in favor of Republicans.  PlanScore, a nonpartisan group that evaluates election maps for partisan bias, said the new maps were an improvement as did Chicago University law professor Nicholas Stephanopoulos who has represented Democratic plaintiffs in a lawsuit against Republican gerrymandering of congressional district maps in North Carolina. Assessing the new maps for state legislative districts, Stephanopoulos said: "The House and Senate maps are both substantially less biased toward Republicans than the plans the court invalidated. Both maps, however, retain a modest pro-Republican skew, with the House map performing somewhat worse than the Senate map." Republicans, he added, also have the advantage for 2020  of heavy incumbency majorities in both chambers, but the new maps give Democratic candidates a better chance than before.
Sept. 27, 2019-Emboldened by a recent favorable state court ruling,  Democratic voters file suit challenging Republican gerrymandering of  North Carolina's congressional districts to give the GOP a lopsided 10-3 tilt in House seats despite fairly even statewide popular vote for Democratic and Republican candidates. Rebuffed by the U.S. Supreme Court, which ruled that partisan gerrymandering was beyond its jurisdiction, the National Redistricting Foundation representing Democratic voters in all 13 congressional districts appealed to the same North Carolina state court that four weeks ago struck down Republican gerrymandering of state legislative districts. Based on that decision, the plaintiffs have asked for a fast ruling to force the redrawing of maps for North Carolina's congressional districts in time for primary elections next March.  Their suit charges that the election maps adopted by the Republican-led state legislature in 2011 violates guarantees in the North Carolina Constitution for free elections, free speech and assembly, and equal protection under the law. Similar lawsuit in Pennsylvania before 2018 election, led to a change in makeup of that state's delegation from 13R-5D to nine for each party after court-ordered gerrymander reform.
Oct.28, 2019-Three judge state court blocks use of current congressional district maps in 2020 elections, asserting that a voter lawsuit was highly likely to succeed in proving that the Republican-led legislature acted illegally in adopting the current maps in 2011 for partisan GOP gain. in September, this same court struck down legislative district maps on constitutional grounds. In issuing a temporary injunction today against the congressional maps, the judges suggested they also view the congressional maps as violating state constitutional provisions guaranteeing free speech, free assembly, free elections, and equal protection under the law. To speed the process toward judgment in this case, the court invited the plaintiff voters to seek a summary judgment and stated their readiness to postpone primary elections next March, if necessary, to allow sufficient time for congressional maps to be redrawn. Lawsuits against partisan gerrymandering were filed this fall after the U.S. Supreme Court ruled last June that it lacked the authority to regulate partisan gerrymandering in the states, however egregious.
Nov 15, 2019-Republican lawmakers in North Carolina legislature, under court order, redraw Congressional district maps, but Democrats immediately ask three-judge panel to reject new maps as drawn to cement unfair GOP majority in state's delegation to U.S. House.  The new map deals with some persistent Democratic complaints, by no longer splitting Democratic-leaning cities such as Asheville and Greensboro to help GOP candidates. But Democrats and some independent analysts contend that even though statewide vote for Congress is typically close to 50-50, new maps will still lead to 8-5 GOP majority in place of the current 10-3 majority. Republican lawmakers took barely one week to redraw House districts after state court ruled that existing maps violated North Carolina Constitution. Final passage in state senate was secured by straight 65-24 party-line vote.
Ohio:
Oregon:
Spring 2010- With Democrats dominant in Oregon state government, a group led by Kevin Mannix, former Republican candidate for governor, mounts a petition drive to put an initiative on 2010 Oregon ballot to create an independent legislative redistricting commission. But the group, Common Sense for Oregon, fails to collect enough signatures to quality their initiative. Similar effort fails in 2012. Redistricting in Oregon is carried out by the legislature or, if it fails to achieve agreement, by the Oregon secretary of state.
June 4, 2015 – Governor Kate Brown, responding to grass roots pressures for more transparency   in  Oregon's redistricting process, signs a bill require the legislature to hold 10 public hearings throughout the state of Oregon prior to the redrawing of congressional and legislative districts after the next decennial census in 2020. The move had been pushed through the legislature by a coalition of groups led by the League of Women Voters and Common Cause.
July 2, 2020- A coalition of citizen reform groups fails to meet the July 2 deadline for submitting signature petitions to put on next November's ballot their proposal for a gerrymander reform plan that would set up an independent non-partisan commission to draw maps for Oregon's legislative districts, in place of self-interested lawmakers. The Oregon constitution requires citizen petitions to be submitted four months before an election, which is today, with signatures equal to 8% of the vote in the most recent governor's election, which is just under 120,000 signatures. The petition drive, led by Voters Not Politicians Oregon, League of Women Voters, Common Cause and the state NAACP was hampered by the state's lockdown orders under the corona virus and was able to collect only  64,000 signatures.
July 10, 2020- Federal district judge Michael M. McShane responds favorably to lawsuit from citizen reform groups against Secretary of State Beverly Clarno, seeking extension of the signature-gathering deadline and easing of the requirements for submitting a citizens reform ballot initiative on gerrymander reform because of the corona virus. Judge orders Secretary of State  Clarno either to put gerrymander reform measure on ballot, as is, or to extend the petition deadline and lower the signature threshold by half to 58,789 signatures. Although Clarno verbally objects to the ruling, she agrees to give the reform groups until Aug 17 to submit their signature petitions.
 July 23, 2020 – Three-judge panel of the Ninth Circuit Court of Appeals rejects appeal from Oregon State Attorney General Ellen Rosenblum to overturn Judge McShane's order with her argument that Mcshane's decision is an unwarranted infringement of the state's right to set its own election laws. Appeals court rejects Rosenblum's appeal.
Aug 11, 2020 –  In an unsigned decision, U.S.  Supreme Court overturns and nullifies federal district court order, thus barring Oregon Secretary of State from modifying Oregon's requirements for submission of the citizen ballot initiative. Oregon Attorney General Ellen Rosenblum had appealed to the nation's high court, comtending that "The district court plucked a new number of signatures and date out of little more than thin air and substituted them for the Oregon Constitution's signature and deadlined requirements." The reform grouips argued that since Oregon Secretary of State Clarno had not appealed, the state attorney general had no standing to make an appeal. Supreme Court majority disagreed and ruled against the reform groups, effectively killing the Oregon gerrymander reform for this year.
Pennsylvania:
Dec. 20, 2011 – The Republican-controlled Pennsylvania legislature approves a congressional redistricting plan, signed into law by Governor Tom Corbett, also a Republican. "The Plan ruthlessly sewed the state, particularly the Philadelphia suburbs into a crazy quilt," writes the nonpartisan Almanac of American Politics, with parts of Democratic-leaning or competitive suburban counties splintered into different congressional districts for GOP partisan advantage.
Jan. 25, 2012 – The Pennsylvania Supreme Court strikes down the legislative redistricting map adopted in 2011 by the state's five-member Legislative Redistricting Commission, ruling that "the lines violated state constitutional requirements of compactness and adherence to the integrity of political subdivisions." Responding to a dozen citizen lawsuits, the court orders the state's Legislative Redistricting Commission to redraw the map. Chief Justice Ron Castille, writing the majority opinion, cites a lawsuit by Amanda Holt, a 29-year-old piano teacher from Allentown, who charged that that the official redistricting plan had unreasonably and illegally split up towns and cities. "The Holt plan is powerful evidence indeed," writes Castille. "This powerful evidence, challenging the Final (official) Plan as a whole, suffices to show that the Final Plan is contrary to law." The high court bars use of the 2011 redistricting plan in the 2012 elections, stating that the prior plan adopted in 2001 would apply.
Nov. 6, 2012 – In the 2012 elections, Republican candidates for the U.S. House of Representatives lost fthe popular vote to Democratic candidates by 75,870 votes than Democratic candidates but Republicans won eight more House seats. A gerrymander by GOP_led legislature gave Republicans a lopsided 13-5 advantage in House seats. Democratic state Senator Daylin Leach, using the same voting results, redrew district lines and created maps that resulted in a 13-5 Democratic House seat advantage, proving that gerrymandering – more than where people live – determines election outcomes.
May 8, 2013 – Pennsylvania Supreme Court approves revised legislative redistricting plan presented by state's official commission, though critics contend that it only modestly improved the defects in the original plan.
March 31, 2015 – Thirteen Pennsylvania state senators, 12 Democrats and one Republican, propose amendment to state constitution to remove legislature and elected officials from the process of redistricting and create instead an independent, nine-member bipartisan commission with a nonpartisan chair.
June 17, 2015 – Eleven lawmakers submit HB1344 calling for Pennsylvania to adopt a California-style independent commission to redistrict state's congressional and legislative districts. Commission would be randomly selected from pool of qualified applicants, excluding officeholders. To replace the often contorted districts drawn in partisan gerrymandering maps, the legislation would require compact, contiguous districts.
Nov. 3, 2015 – Democratic candidates swept all three races to fill vacant seats in the Pennsylvania supreme court, giving Democrats a 5-2 court majority for the first time in years. That new majority was seen as potentially important for future gerrymandering cases, given the court's key decisions on recent legal challenges to district gerrymandering by the Republican-led state legislature.

June 15, 2017 – League of Women Voters files suit in Pennsylvania state court, charging that partisan gerrymandering of election districts by Republican-controlled legislature in 2011 violates constitutional free speech rights of Democratic voters. Lawsuit contends that even though registered Democrats outnumber registered Republicans 5-to-4 and Democratic candidates polled more votes in 2012 congressional election than Republican candidates, GOP manipulated election district lines to gain 13-5 edge in House seats. Plaintiffs' attorney David Gersch, encouraged by rulings from the Pennsylvania Supreme Court on freedom of speech issues, argues that current election map punishes Democratic voters for their political views.

Oct 15, 2017 – Federal District Judge Michael Baylson, dismissing appeals for delay, puts an anti-gerrymander lawsuit on fast track for federal court hearing on Dec. 5. Five Democratic voters charge that in 2011, the GOP-dominated legislature violated the U.S. Constitution by drawing boundaries of the state's 18 Congressional districts to insure that Republicans would win a lopsided 13-5 majority of seats. Republican leaders of the legislature contend their election maps were legally drawn.
Nov. 9, 2017 – Pennsylvania Supreme Court orders a lower court to rule in next six weeks on a lawsuit against Republican gerrymandering of the state's congressional districts in time to affect the 2018 election.
Dec. 29, 2017 – Pennsylvania Commonwealth Court judge rules against Democratic challenge to Republican gerrymandering of state's congressional districts, sending case to Pennsylvania supreme court. Judge P. Kevin Brobson of Harrisburg says the state's Congressional districts were drawn in 2011 to give Republicans an advantage, but finds that the gerrymandered maps did not violate the state constitution. Judge says Democrats who brought suit had failed to provide a legal "standard" for creating nonpartisan maps.
Jan. 10, 2018 – Three-judge federal court panel rejects lawsuit by 20 Democratic voters charging that Republicans illegally gerrymandered state's congressional districts in 2011 to favor GOP. By 2-1 majority, court upholds district maps drawn by Republican-led legislature as constitutional and tells plaintiffs to seek relief "from the political branches or the political process itself, not the courts." Writing for the majority, Judge D. Brook Smith said that when federal courts step into political disputes, " they do so at the risk of muddying the waters — potentially providing state legislatures with enough cover to argue that their hands are tied by the courts and that they are not responsible for a controversial map." Democratic plaintiffs plan an appeal to the U.S. Supreme Court.
Jan. 22, 2018 – In a stunning 5-2 decision, Pennsylvania's Supreme Court throws out the state's congressional district maps, ruling that the the Republican majority in the legislature had drawn district lines for partisan advantage. The majority of five Democratic judges finds that the map of congressional districts "clearly, plainly and palpably violates the Constitution of the Commonwealth of Pennsylvania." Two Republican judges dissented. The court's two-page ruling orders the legislature to redraw the district maps by Feb.9, with Democratic Governor Tom Wolf to sign off by Feb 15. Otherwise, the court says it will redraw election districts itself. With Republicans holding a lopsided 13=5 advantage in House seats, the court's decision increases chances for Democrats to pick up House seats in the 2018 election.
Feb. 5, 2018 – U.S. Supreme Court rejects appeal by Republican legislative leaders of the legislature to overrule the Pennsylvania Supreme Court's ruling against GOP gerrymandering of the state's congressional district maps.
Feb. 19, 2018- The Pennsylvania Supreme Court imposes new maps for the state's 18 congressional districts after Republican legislative leaders and Democratic Gov.Tom Wolf failed to agree on new maps. Last month, the state's high court ruled that GOP-drawn maps violated the Pennsylvania constitution. IF court's new map survives likely legal challenge from angry GOP legislative leaders, it is likely to improve chances of Democratic candidates in the November elections. The court's plan made congressional districts more compact, closely aligned with country boundaries and without weird shapes of Republican-drawn maps that gave the GOP a 13-5 seat advantage in state's Congressional delegation.
March 19, 2018 – A three-judge federal court panel and the U.S. Supreme Court reject two separate appeals by the leaders of Pennsylvania's Republican legislature and eight Republican members of Congress to overrule the redrawing of Pennsylvania's 18 congressional districts by the state supreme court. The rulings effectively close the door to legal challenges by state GOP leaders. Both court decisions stated in effect that federal courts lack jurisdiction to overturn a ruling by the Pennsylvania Supreme Court based on the state's constitution.
Nov 6, 2018 -The immediate impact of court-ordered gerrymander reform in Pennsylvania was to restore an even balance in the state's congressional delegation and a much closer correlation between that outcome and the popular vote statewide. Both major parties won nine House seats, correcting the previous lopsided 13-5 Republican tilt. Overall, more races became competitive, with half decided by relatively close margins. "When you un-gerrymander a state, as our intrepid Supreme Court has done, you create a climate where our representatives are no longer in blood-red districts or sapphire-blue districts," said Democratic Rep. Matt Cartwright, who was reelected in the 8th Congressional district. "They're in districts that could change hands."

Democratic Gov. Tom Wolf creates 15-member bipartisan Pennsylvania Redistricting Reform Commission  "to explore ways that Pennsylvania could use policies, technology and data to curb gerrymandering and ensure fair maps" for future state elections for legislature and Congress. As chairman, Wolf chose David Thornburgh, President of the Committee of Seventy, a well-known nonpartisan political reform group, and son of former Republican Gov. Dick Thornburgh. Legislative leaders of both parties were to pick four members, two Republicans and two Democrats. The governor's appointees include such advocates of gerrymander reform as Thornburg;, Susan Carty, President of the Pennsylvania League of Women Voters; and Amanda Holt, a Republican commissioner in Lehigh County who six years ago filed a lawsuit challenging the improper gerrymandering of her county by the Republican majority in the state legislature. Republican legislative leaders derided Wolf's commission plan as political grandstanding. "We will not be props in his theater that is an attempt to be a make-shift alternative to the federal and state constitutions and will have no practical effect," said a statement issued by Senate President Pro Tempore Joe Scarnati, House Speaker Mike Turzai, Senate Majority Leader Jake Corman and House Majority Leader-elect Brian Cutler.
South Dakota:
Dec. 24, 2015 – Citizens ballot initiative sponsored by South Dakota Farmers Union to reform partisan gerrymandering of state legislative districts is certified by Secretary of State for popular vote in November 2016 election. To qualify, farmers union and other citizens groups gathered 43,198 signatures, well above required minimum. State constitutional amendment calls for creation of nine-member commission comprised of three members each from two major parties plus three independents or members of minority parties. It would require majority of five votes for any redistricting plan, thus blocking any single party from dominating the process. Current or recent state and party officials are barred from serving on commission whose members are to be selected by State Elections Board from certified panels of ten Republicans, ten Democrats, and ten independents.
Jan. 8, 2016 – South Dakota Secretary of State certifies ballot initiative to amend state constitution and establish a nonpartisan primary for all offices except President and Vice President. To put measure on November ballot, nonpartisan group TakeItBack.org submitted 44,095 signatures, well over required number of 27,714. The measure would allow independents to vote along with Republicans and Democrats, and it would eliminate party branding of candidates, who would be listed on ballot without any party label. Akin to the model used in Washington State, Louisiana and California, South Dakota would send the two top primary vote-getters for each office to compete in general election.

Nov. 8, 2016 – In popular referendums, South Dakota voters reject ballot proposals for non-partisan primary elections and gerrymander reform. The gerrymander reform measure (Amendment T) proposed setting up an independent redistricting commission of three Republicans, three Democrats and three independent or minority party members to draw the lines of South Dakota's legislative districts but voters turn it down 57% to 43%. The nonpartisan primary measure (Amendment V) would have given a vote to the roughly 115,000 independent voters currently barred from voting in GOP primaries in this heavily Republican state. The measure, rejected by a 55.5% majority, called for all candidates from all parties as wel and would have put all primary candidates on a single ballot with the top two vote getters competing in the general elections.
Texas:
July 2011 – With the Lone Star State showing a population increase of 4.3 million since 2000, Texas gains four more House seats, triggering a major new redistricting operation. Nearly 90 percent of the population growth comes among minority residents (65% Hispanic, 13% African-American, 10% Asian). Yet the Republican-dominated Texas legislature awards white Republicans three of the four new seats that resulted from growth among minority populations that normally lean Democratic.
Sept. 19, 2011 – The Justice Department's Civil Rights Division asserts that Texas's redistricting plans for the state house and for congressional districts do not comply with Section 5 of the Voting Rights Act (VRA) because they give too little voting power to the growing Latino population in Texas. In a court filing, Justice Department lawyers deny that the congressional district plan "maintains or increases the ability of minority voters to elect their candidate of choice in each district protected by Section 5." The case is referred to a special three-judge panel in Washington.
Aug. 28, 2012 – A federal court rules that Texas's redistricting maps were "enacted with discriminatory purpose" and finds that Texas Republicans not only failed to grant new power to minority voters in the state, but also took away vital economic resources from minority Democratic members of Congress. "The Texas plan is by far the most extreme example of racial gerrymandering among all the redistricting proposals passed by lawmakers so far this year," says Elisabeth MacNamara, president of the League of Women Voters. The federal court finds in effect that the Texas redistricting plan has "the purpose or effect of denying or abridging the right to vote on account of race, color, or membership in a language minority group…." An interim map drawn by a federal court in San Antonio in February will be used for the 2012 election.
June 18, 2014 – Although Texas has made some minor modifications in its redistricting plan in 2013, a Texas federal court rejects the state's effort to dismiss all lawsuits against its redistricting plans. The three-judge panel does throw out a gerrymandering complaint filed by the Texas Democratic Party, saying it is unclear how the gerrymander allegation can be judged objectively under Supreme Court rulings. But the federal court allows further arguments over whether the Texas redistricting plan drawn up in 2011 was racially discriminatory and would thus require Texas to submit any future election law changes to the Justice Department for clearance and approval.
May 26, 2015 – The Supreme Court decides to take up a "one person, one vote" case originating from Texas and challenging use of total population in an area for delineating districts. Instead, suit argues, basis should be number of eligible voters in the area. In accepting the Texas case brought by Project on Fair Representation, a Washington-based conservative advocacy group, court will consider whether whole new basis should be used by states and localities for determining equality districts. Such a shift would have an enormous impact in a state like Texas, which has large numbers of non-citizen immigrants and children. It would, for example, greatly reduce the population count and political clout of Latinos.

March 11,2017 –Three-judge federal court rules that three congressional districts in Texas violate U.S. Constitution because Republican legislature illegally used race as the main motivating factor in drawing district maps. If this decision is upheld, the three districts in areas around Austin and San Antonio, will have to be redrawn with a ripple effect on neighboring districts as well. Two of the three districts are held by Republicans; the other is held by Democrat Lloyd Doggett. Race can be considered in order to protect minority rights under 1965 Voting Rights Act, but courts have ruled that race cannot be used to dilute the influence of minority voters.

May 22, 2017 – In wake of U.S.Supreme Court decision against racially driven gerrymandering in North Carolina, a federal judge asks Texas to consider calling a special session of legislature to fix racially gerrymandered districts targeted in suit by Hispanic voters. With 5-3 decision in North Carolina case, high court sent signal to Texas and other states accused of racial gerrymandering. District Judge Xavier Rodriguez, acting on behalf of three-judge appeals court panel that has already ruled against the redistricting done by Texas legislature in 2011, asked Texas to consider whether to "voluntarily undertake redistricting in a special session."
July 11-15, 2017 – Texas is thrown on the defensive by three-judge federal panel examining how to fix mapping of three Texas congressional districts, already declared unconstitutional by the court. State attorneys defending state district maps faced skeptical questioning in six-day hearing.. Lawsuit by Hispanic voters and NAACP is asking federal courts to order redrawing of district boundaries to protect rights of minority voters. Judges Xavier Rodriguez and Orlando Garcia sounded impatient with stater's failure to correct maps rejected previously by court. Garcia faulted the state for using claims of "legislative privilege" as pretext for refusing to provide necessary documents and testimony.
July 27, 2017 – Texas Republicans are now worrying about an "Armageddon map"- a federal appeals court decision to redraw the boundaries of election districts in Texas in ways that could put up to six Republican-held House seats in danger. The appeals court has already found three districts to be racially discriminatory against Latino voters in the Austin and San Antonio areas. The worst case scenario, what Republicans call "the Armageddon map" would involve court-ordered district maps that put in jeopardy two more Republican-held districts around Dallas-Fort Worth and one in Houston.
June 25, 2018 – In decision the shocked advocates of gerrymander reform, U.S. Supreme overturns a lower court ruling that had found that Texas lawmakers in 2013 drew legislative district maps that intentionally undercut the voting power of Hispanic and black voters, often to keep white incumbents in office. By 5-4, the high court found that the evidence was "plainly insufficient" to prove that the state legislature acted in "bad faith." The Supreme Court ruling leaves intact all but one of 11 districts that had been challenged by minority plaintiffs. The one exception was Fort Worth-based Texas House District 90, represented by Democrat Ramon Romero. His district was deemed an impermissible racial gerrymander because lawmakers illegally used race as the predominant factor in deciding its boundaries.
Utah:
July 20, 2017 – A self-styled bipartisan movement for Better Boundaries announces plan to promote a statewide referendum on gerrymander reform to take the job of mapping legislative and congressional districts away from the Republican-dominated legislature and turn it over to an independent, seven-member, nonpartisan commission of experts. To emphasize bipartisan support for reform, the movement's co-chairs are Ralph Becker, former two-term Democratic Mayor of Salt Lake City, and Jeff Wright, former state legislator and GOP candidate for Congress.

"When you have politicians picking their voters, they are going to pick those who best support them personally," said Becker. "I really saw that it brought out the worst in people." Wright that while gerrymandering in Utah favored his own party, it worked the opposite way in other states. "To avoid mutual assured destruction across this country," he said, "we need to have independent commissions." Under the proposed reform, an expert nonpartisan commission would draw the maps and submit its plan to the legislature for an up-or-down vote, with no amendments allowed. IF the legislature rejected the commission maps, it would be required to follow standards set by the reform law and by the commission.

May 16, 2018- Organizers of Better Boundaries, a citizen movement to reform partisan gerrymandering of election districts in Utah, announces it has gathered 150,000 signatures – more than enough to qualify its reform proposal for a popular vote on the November 2018 ballot. The reform proposal would assign the task of remapping of legislative and congressional districts to an independent seven-member nonpartisan commission of experts appointed jointly by the governor and leaders of both parties in the legislature. The commission redistricting plan would go to the legislature for a vote.
May 29, 2018 – Republican Lt. Gov.Spencer Cox certifies the Utah Independent Redistricting Commission initiative for November 2018 ballot. He reports that the Better Boundaries movement collected 150.082 valid signatures, all over the required minimum of 113,143 signatures, and that it qualified in 26 of 29 state senate districts, as required.
Virginia:
March 22, 2011- To encourage fair, nonpartisan redistricting, Virginia colleges and universities run a competition for student teams to draw maps for the state's congressional and legislative districts. Fifty-five teams take part. The winning map from the University of Virginia meets legal requirements for compact, contiguous districts generally adhering to boundaries of cities and counties, and it also produces election outcomes that reflect the popular strength of the two major parties. With Virginia voters splitting 42% for Republicans, 40% for Democrats and 18% independents, the UVA team's plan produces a 6-5 split favoring Republicans, that is, six districts with majority of Republican voters, five districts with majority of Democratic voters. It also makes 6 of Virginia's 11 districts competitive, giving greater choice to voters. The UVA team contends that its plan is a significant improvement over the gerrymandered plan drawn by the state legislature in 2001, "thereby demonstrating that it is not only possible but preferable to draw U.S. House districts in a fair and non-partisan manner."
April 2, 2011 – Virginia legislature adopts a highly gerrymandered redistricting plan worked out in secret and tilted strongly in favor of Republicans and incumbents. The governor's 11-member advisory commission on redistricting is ignored. Fewer than 10 of Virginia's 140 state legislators are privy to districting maps until they are made public. District lines are largely drawn by two men: State Senator Sen. George L. Barker, a Democrat from Prince William County, and Rep. S. Chris Jones, a Republican from Suffolk County. "It's horrific," says C. Douglas Smith, Chair of the Virginia Redistricting Coalition. "Redistricting has always happened with only a few people knowing. It shouldn't surprise us, but should disappoint us." Although governor's advisory commission was supposed to "solicit public input and recommend congressional and state legislative districts to the legislature," it did not have time to look into the student redistricting plans.
Jan. 25, 2012 – After approval by the House of Delegates and the Virginia Senate, Gov. Bob McDonnell signs into law a congressional redistricting plan that essentially cements the GOP's advantage in winning 8 House seats to 3 for Democrats (even though Democrats now nearly equal Republicans in voter registration), plus a 2-1 Republican majority in the state House of Delegates.
Oct. 7, 2014 – A panel of federal judges declares Virginia's congressional mapping unconstitutional because Virginia plan packs too many African American voters into the 3rd congressional district, reducing influence of black voters in nearby districts. The court majority, citing comments of former Virginia Delegate Bill Janies, a prominent backer of the plan, finds that race was the predominant factor in drawing district boundaries. The court leaves existing districts intact for November 2014 election, but orders the Virginia General Assembly to draw new congressional maps by April 1, 2015 for the 2016 elections. The Virginia legislature appeals to the U.S. Supreme Court.
March 30, 2015 – The Supreme Court, without comment, sends Virginia redistricting case back to the federal appeals court for further hearing.
June 5, 2015 – A three-judge federal appeals court panel again rules that Virginia legislators packed too many black voters into one congressional district in order to make adjacent districts safer for Republicans. The 2-to-1 ruling directs the Virginia General Assembly to draw new boundaries by September 1 for the 3rd congressional district. In its 2011 redistricting plan, Republican-controlled legislature increased 3rd district's black voting-age population to 56.3% from 53.1%, creating an odd-shaped district that snakes from Richmond to Hampton Roads, composed of "a disparate chain of communities, predominantly African-American, loosely connected by the James River," writes Judge Allyson Duncan, a Bush appointee.
Oct. 7, 2015 – Virginia's Republican members of Congress make stunning admission that in 2011, GOP-dominated state legislature intentionally stacked congressional district maps to insure Republicans a lopsided 8-3 congressional seat advantage in 2012 elections. The legislature's "overarching priorities" in redistricting, their court brief asserts, was "incumbency protection and preservation of cores to maintain the 8-3 partition division established in the 2010 election." Defying court order to redraw 3rd congressional district, Republican lawmakers contend that federal courts must retain GOP's 8-3 advantage and allow partisan gerrymandering.
Jan. 7, 2016 – A three-judge federal panel, frustrated by the defiance of Virginia's Republican-led legislature, imposes its own remapping of five Virginia congressional districts. In 2-1 ruling, court creates a second district favorable to black candidates. It reduces percentage of black voting-age population in snake-shaped 3rd congressional district, held by Robert C. Scott, a black Democrat, from 56.3% to 45.3% and simultaneously increases eligible black electorate in the 4th district from 31.3% to 40.9%, making that district possible for a black candidate to win. Veteran black Democratic legislator, State Senator A. Donald McEachin, quickly files to run in the new 4th district. Incumbent Republican Randy Forbes says he'll quit the 4th district and run in the remapped 2nd district. Three Republican congressmen appeal to the Supreme Court.
March 21, 2016 – Hearing appeal on Virginia's racial gerrymandering lawsuit, Supreme Court justices seem to favor lower court ruling that overturned Republican gerrymandering and redrew maps for five congressional districts. Justice Anthony Kennedy, often the swing vote, questioned whether GOP-dominated legislature had packed the 3rd congressional district with black voters in order to reduce the typically Democratic black vote in adjacent districts and generate Republican winners.
May 23, 2016 – Supreme Court unanimously dismisses appeal from three Republican members of Congress to overturn a lower court's redistricting for Virginia. Lower court had rejected racial gerrymandering by Virginia legislature. Rep Randy Forbes, R-VA, contended court plan would "completely transform" his district to the advantage of black voters and Democratic candidates. Supreme Court says three congressman lacked judicial standing and failed to produce evidence that they had been unfairly harmed.
Nov. 8, 2016 – In wake of court-ordered remapping of Virginia's congressional districts, former State Senator A. Donald McEachin wins 4th Congressional district seat, giving Democrats four of Virginia's 11 seats in Congress, two of them now held by blacks.

Feb.1, 2017 – Despite court-ordered easing of Virginia's partisan gerrymandering, Republican majority in Virginia General Assembly digs in against gerrymander reform. With a single 4-3 negative vote in the Constitutional Subcommittee, GOP kills five proposals for redistricting reform, including one offered by Republican Delegate Steve Landes. His proposal calls for a state constitutional amendment that would prohibit the drawing of any political district "for the purpose of favoring or disfavoring any political party, incumbent legislator, member of congress, or other individual or entity." House reform advocates call on Speaker William Howell to allow a floor vote on gerrymander reform. "Gerrymandering has distorted election results and diluted the power of individual voters," charges Del. Charniele Herring, chair of the House Democratic Caucus. "We need a full floor vote on a redistricting amendment now."

Mar 1, 2018 – U.S. Supreme Court orders lower court to take tougher look at racial factor in gerrymandering of Virginia's legislative districts, 11 of which were challenged as unconstitutional on basis of packing too many black voters into some districts, thus favoring whites in neighboring districts. Three-judge federal panel ruled that legislature had applied such race-neutral standards as compactness of districts in drawing district lines.
June 2018 -Three-judge federal district court panel finds that 11 districts in Virginia's House of Delegates were drawn unconstitutionally with race as a key determining factor for the maps."Overwhelming evidence in this case shows that, contrary to . . . constitutional mandate, the state has sorted voters into districts based on the color of their skin," federal district judge Barbara Milano Keenan writes for the 2-1 court majority. Court orders the state of Virginia to submit new district maps by Oct 30. But Republican dominated Virginia General Assembly and Democratic Gov. Ralph Northam are unable to agree on replacement maps by court deadline.
Oct 31, 2018 – Federal court appoints redistricting expert  Bernard Grofman, UC Irvine political scientist, to redraw maps for 11 legislative districts with Dec 7 deadline.
Jan 23, 2019- Three-judge federal court panel orders Virginia to adopt new boundaries for 11 legislative districts, drawn by academic expert and considered likely to boost Democratic efforts to reclaim control of the House of Delegates. Judges  approve a draft map from Bernard Grofman, a University of California-Irvine political scientist chosen by the court as its special master last year to redraw maps for 11 state House districts that court found had illegally diluted the political power of African-American voters. Main districts affected were in in the Richmond exurbs and the Hampton Roads areas.
Feb 26, 2019 – Virginia legislature overwhelmingly adopts plan for gerrymander reform, proposing future districts be drawn by 16-member commission of citizens and lawmakers and that would require bipartisan approval. By votes of 83-15 in the House of delegates and 39-1 in the state senate, lawmakers approve a draft amendment to state constitution that could go into effect after 2020 census. But first, it must pass in next legislative session in early 2020 and then be approved by popular referendum in November 2020. Technically, state legislature would continue to enact election maps, but based on recommendation of advisory commission of 8 legislatures and 8 citizens, each group split evenly between Democrats and Republicans. Any redistricting plan would have to be adopted by a supermajority – six of eight commissioners – of both legislative group and and citizen group.
March 18, 2019-U.S. Supreme Court hears awkward Virginia redistricting case where state's lawyers are divided – the Democratic attorney general's office challenging racial gerrymandering by the Republican dominated legislature in 2011, and lawyers for the legislature defending the legislature's actions as complying with provisions of 1964 Voting Rights act to protect minority voters.  Legal arguments give no clear hint of courts likely ruling though the high court has in the past tended to ruled against perceived racial gerrymandering.
March 6, 2020 – Prodded by Democratic Gov. Ralph Northam, newly ascendant Democratic majorities in the Virginia legislature pass a gerrymander reform plan. After easy passage in state senate, vote in House of Delegates is 54-46, with only nine Democrats joining the 45-member Republican minority to approve reform, while 46 Democrats voted No. Reform plan – in the form of an amendment to Virginia state constitution – will go before voters in November election for final approval. Republicans began reform process in early 2019 during the previous legislature  because they feared losing control in 2018 and 2020 and sought a politically neutral redistricting commission. Now endorsed by Democratic-controlled legislature, the plan calls for future election maps to be drawn by a 16-member commission composed of eight citizens and eight lawmakers, four from each party. Maps must be adopted by super-majorities – six of eight legislators plus six of eight citizen commissioners. Any disputes over boundaries would be resolved by a court-appointed special master. The reform would also guarantee voting rights for minorities, by writing into Virginia's constitution the protections of the 1965 federal Voting Rights Act. Driving force behind reform was Virginia One 20-21, a grassroots citizen movement that has fought for years against partisan rigging of elections maps in Virginia. "This is historic for Virginia," declared Brian Cannon, the group's executive director."It puts citizens at the table with legislators for the first time ever. It takes it out of the smoky back room and adds sunlight and transparency."
Nov. 3, 2020- Defying Democratic Party leaders, Virginia voters adopt a  gerrymander reform plan creating a hybrid bipartisan  commission to draw up election maps for the state's congressional and legislative districts starting in 2021. The measure passed by an overwhelming 2-1 majority, despite  belated opposition from the state's Democratic Party leadership which told their followers that the party " strongly urges you to Vote NO." But the switch came too late for many voters who for two decades had heard Democratic politicians protest that the Republican majority in the legislature was stacking election maps to give the GOP a lopsided 8-3 advantage in Virginia's congressional seats, not justified by the actual statewide vote. In 2019, the Republican legislature, sensing an imminent Democratic sweep, devised and passed a half-way reform, creating an eight-member bipartisan commission, half politicians and half citizens, drawn equally from both major parties. To take effect, that plan had to pass the next legislature and also win approval of Virginia voters.When Democrats gained control of the legislature in January 2020, the Democratic leadership switched its stance and opposed the reform, saying it did not fully remove politicians from the map-drawing and it locked guarantees of a role for minority voters. Some suggested that once the Democrats were in control, they saw a chance to gerrymander districts for their own advantage so long as the reform did not take effect. But pressed by non-partisan reform,groups like VirginaOne 2021, some Democratic lawmakers felt some reform was better than none and joined Republican lawmakers in passing the plan and submitting for a popular vote which, for hyeafrs, had heard  Democratic leaders advocate reform and now herald republicans saying it as well.
Washington State:
Nov. 8, 1983 – By a 61% majority, Washington state voters approve a ballot measure to amend the state Constitution instituting an independent redistricting commission, with two members each from the major parties and a non-voting, nonpartisan chair.
Nov. 4, 2004 – Majority of voters in Washington State approve Initiative 872 adopting a Top-Two Primary election system, and after the U.S. Supreme Court upholds the Top-Two Primary in March 2008, Washington State voters use this system for the first time in 2008. Its purpose is not to select party nominees, but to identify the top-two vote-getters, regardless of party. Under the Top-Two system, all candidates are listed together on a single nonpartisan ballot, and two candidates who receive the most votes proceed to the general election, even if they come from same party or include a third-party candidate.
Top-Two system differs from a closed primary, which restricts participation in the primary to registered party members; and from an open primary, which is open to all voters, independents as well as party members, but which requires voters to choose one party or the other and then only allows them to vote for candidates form that party. The Top-Two system permits voters to split their ticket, voting for candidates of different parties for different posts. This system goes the furthest in minimizing the influence of political parties because parties not only lack control over which voters participate in the primary, but also which candidates are listed on the ballot. (National Conference of State Legislatures 2014).
Nov. 2, 2010 – Under Washington State's new Top-Two Primary system, voter turnout rises an average of 8% from turnout in congressional races in previous mid-term election in 2006, lending support to contention that Top-Two system encourages more voters by including political independents and minority party voters, who are shut out of closed party primaries.
Feb. 7, 2012- Washington state legislature passes a "slightly amended" version of the redistricting plan drawn up by the state's independent redistricting commission. The 2012 plan is important because Washington State has gained an additional Congressional seat. In a state where registered Democratic voters outnumber Republicans by 45% to 37% (independents and small parties are 18%), the new district maps result in Democrats' picking up one more seat, to enjoy a 6-4 advantage in the state's delegation to the House of Representatives.
Nov. 6, 2012 and Nov 4, 2014 – In 2012 election, moderate Democrat Susan DelBene beats out more liberal Democrats in district 1,with her centrist appeal. In 2014 election, moderate Republican Dan Newhouse runs second to a Tea Party conservative in the primary, but qualifies for the general election and then wins the seat in district 4. These two case demonstrate how more moderate candidates fare better in Top-Two Primary system.
Wisconsin:
Aug. 9, 2011 – Gov. Scott Walker signs partisan redistricting plan drafted in secret by Republican legislature, moving hastily to get Republican plans cast into law before state Senate recall elections could upset GOP majority. Wisconsin had been targeted by REDMAP, national GOP redistricting strategy to gain control of state governments in swing states. In 2010, Wisconsin Republicans win governorship and majorities in both legislative houses and then pounce on the opportunity to dominate redistricting in Wisconsin. They move stealthily. They not only have private law firms draw up new district boundaries behind closed doors but make GOP legislators sign secrecy oaths before they can view their own redrawn districts. The new maps bring immediate lawsuits, as well as pointed rebukes from judges protesting the law firms' frivolous motions and withholding of evidence. One suit decries the disenfranchisement of more than 300,000 voters who would have to wait six years to vote for their state senator instead of the usual four years. Another suit charges that the plan dilutes Latino voting power.
March 22, 2012 – A panel of three judges rules unanimously that the 2011 redistricting plan drawn by Republican legislators violates the voting rights of Latinos in Milwaukee's south side and orders that lines be redrawn for two state assembly districts, Districts #8 and #9. The judges, two appointed by Republican presidents and one appointed by a Democrat, assert that the maps were clearly motivated by partisanship and do not match the almost-even voter registration of Republicans and Democrats in Wisconsin. "Regrettably, like many other states, Wisconsin chose a sharply partisan methodology that has cost the state in dollars ($2.1 million), time and civility," the court writes. It says the GOP plan "was needlessly secret, regrettably excluding input from the overwhelming majority of Wisconsin citizens, and … needlessly moved more than a million Wisconsinites and disrupted their long-standing political relationships…"
April 11, 2012 – The three-judge federal panel revises the district boundaries of two Milwaukee area legislative districts to remedy defects that the court had cited earlier. Otherwise, it allows the Republican redistricting plan to stand.
Nov. 2012 – Republican REDMAP gerrymandering strategy pays off big-time for Republicans. Even though Democratic candidates won more votes in House races (50.3% to 49%), Republicans came away with five House seats to three for Democrats. Before the Republican gerrymandering of 2011, Democrats had a 5-3 edge in House seats. In the 2012 election, Wisconsin was one of four states where Republicans lost the popular vote but won more House seats. The others were Michigan, Pennsylvania, and North Carolina.
April and May 2013 – Two bipartisan reform bills (AB 185 and SB 163) introduced in the Legislature, seek to strip the task of redistricting from politicians and give it to the Legislative Reference Bureau—emulating the system of neighboring Iowa, where nonpartisans taff agency does redistricting. The bills are supported by Common Cause in Wisconsin, the League of Women Voters of Wisconsin, Wisconsin Democracy Campaign and a host of media outlets.
May 15, 2013 – Groups suing Wisconsin state in redistricting case find that lawfirm that advised Republican destroyed numerous documents and failed to turn over vital materials in case. Plaintiffs and law firm reach out-of-court settlement.
June 3, 2013 – Three federal judges scold Republicans for drawing election maps in secret and hint regulators may want to investigate why subpoenaed documents were withheld from groups that sued the state. "We cannot help but conclude that the people of Wisconsin deserve better in the next round of redistricting after the 2020 census," the judges wrote.
April 8, 2014 – Legislation for setting up independent redistricting commission in Wisconsin is voted down by Republican-dominated legislature that engaged in heavily partisan gerrymander plan of 2011.
July 8, 2015 – Wisconsin Fair Elections Project, a bipartisan group co-chaired by former state Senate Majority Leaders, Republican Dale Schultz and Democrat Tim Cullen, and 12 voters file suit, charging that the 2011 Republican redistricting plan for state legislative districts violates their constitutional rights and constitutes one of the "worst partisan gerrymanders in modern American history." The suit includes two expert reports asserting that the gerrymander in Wisconsin is extreme and far outside Constitutional norms, and proposes a clear standard for the courts. It asserts that in the 2012 election, the 2011 Republican redistricting plan enabled GOP candidates to win 60 of 99 seats in the state Assembly, even though Democratic candidates won a majority of the statewide Assembly vote."This kind of partisan gerrymandering is both unconstitutional and profoundly undemocratic," the lawsuit asserts. "It is unconstitutional because it treats voters unequally, diluting their voting power based on their political beliefs, in violation of the Fourteenth Amendment's guarantee of equal protection, and because it unreasonably burdens their First Amendment rights of association and free speech."
Dec. 17, 2015 – Three-judge federal court panel rejects Wisconsin attorney general's motion to dismiss a lawsuit challenging partisan gerrymandering of state legislative districts by Republican-dominated legislature in 2011. Court sets hearing date in May 2016.
Nov. 21, 2016 – In a potentially precedent-setting decision, a three-judge federal district court rules that the Wisconsin legislature engaged in unconstitutional partisan gerrymandering intended to favor Republican candidates when it drew the lines for the state's legislative districts in 2011. Typically, when federal courts have overturned state gerrymandering of congressional or legislative districts, they have ruled on the basis of unconstitutional racial bias against black or minority voters. But in this decision, a 2-1 court majority held that the 2011 redistricting by the Republican-dominated state legislature and GOP Gov. Scott Walker deprived Democratic voters of equal protection under the laws, as required by the 14th Amendment to the Constitution. It ordered the governor and legislature to redraw legislative district maps by Nov 1, 2017, with the new maps to be used in the 2018 election cycle.
Heather Gerken, a Yale law professor who specializes in election law, told The New York Times that the Wisconsin decision was "a huge deal. For years, everyone has waited for the Supreme Court to render to do something on this front. Now, one of the lower courts has jump-started the debate." The Wisconsin ruling can be appealed directly to the U.S. Supreme Court.

The Wisconsin case broke new ground on that crucial point. It was argued and decided largely on the basis of a mathematical formula, which examines whether electoral districts are competitive, thus giving voters true choice and where victory margins are narrow, or whether the majority party, drawing the maps, has packed excessive numbers of the opposite party into a few districts, where they win by large majorities, and thus "waste" votes, while the majority party sets itself up to win many more districts by slim margins. By this standard, an efficient or fair redistricting plan has relatively few wasted votes and a highly partisan gerrymandering has many more wasted votes. In examining four decades of state redistricting plans, the three-judge panel accepted the argument that if the margin of wasted votes between the parties was greater than 7%, that proved a partisan gerrymander. In Wisconsin, experts testified the ratio of wasted votes after the 2011 Wisconsin gerrymander ranged as high as 13%.

Oct. 3, 2017- In hearing Wisconsin lawsuit against the Republican gerrymander of 2011, the Supreme Court justices split almost evenly, with four liberal justices sounding sympathetic to voters and four conservative justices seeming to side with Wisconsin Republican state government. Justice Anthony Kennedy, the potential deciding vote, asked whether the First Amendment Rights of voters were endangered by partisan gerrymandering, with voters of the out-party being punished for their views by the party in power. At one point, Kennedy seemed to question the very basis of a partisan gerrymander, asking the state's attorney whether it would be admissible for the state to pass a law authorizing partisan gerrymanders. With Democrats winning 52% of the popular vote but Republicans garnering 61% of the legislative seats, Justice Ruth Bader Ginsburg asked: "if you can stack a legislature in this way, what incentive is there for a voter to exercise his vote? Whether it's a Democratic district or a Republican district, the result — using this map, the result is preordained in most of the districts. What becomes of the precious right to vote?"
Chief Justice John Roberts worried that if the court were to decide against the Wisconsin gerrymander, the high court would not only be inundated with cases from other states but would be seen by many Americans aa deciding the outcome of elections in place of voters. Paul Smith, attorney arguing for Democratic voters who filed the suit, responded that the court might protect its agenda but if the court rejected the voters' case, it would be giving the green light to extreme partisan gerrymandering in the future. In 2020, he said, there would be "a festival of copycat partisan gerrymandering the likes of which this country has never seen."
June 18, 2018 – The U.S. Supreme Court ducks the issue of partisan gerrymandering with the narrow ruling that a dozen Democratic voters in Wisconsin lacked legal standing to challenge the statewide redistricting plan adopted by the Republican-dominatred state legislature in 2011. In an opinion by Chief Justice John Roberts, the high court sends the case back to a federal district court to decide whether the Democratic plaintiffs could show how they had been harmed by the GOP plan, district by district. Because Republicans won 60% of seats in legislature with only 48% of popular vote, Democratic voters contended that their voters counted for less than Republican votes under OP redistricting plan.But Justice Roberts wrote that if in fact their voting power was diluted, it was a political injury specific to their individual legislative districts, which would not necessarily require redrawing district lines statewide. as the plaintiffs had requested. A federal district court will now decide whether the case cane go forward once again.