Georgia: The Battle to Control the U.S. Senate
Washington – Of all Joe Biden's victories on his path to the White House, the most remarkable and surprising breakthrough was winning Georgia, a Deep South, deep red state that has now suddenly become the focus of Democratic hopes for gaining control of the U.S. Senate. And control of the Senate is vital for Biden and his agenda in 2021.
Right now, Republicans have locked in a 50-48 advantage in the Senate, posing a serious obstacle to the President-elect. But if two Democratic challengers can upset and oust two incumbent Republican senators, David Perdue and Kelly Loeffler, in Georgia's January 5 runoff election, that would literally tie the Senate at 50-50, and give the deciding vote to Vice President-Elect Kamala Harris.
So the stakes in Georgia are extremely high, the odds are long, and yet the political arithmetic is inviting to Democrats, even if it is also daunting.
Women and Minorities Gaining Power
Inviting because the modern demographics of Georgia have changed so dramatically in recent years, transforming the commercial hub of the Old South into high tech, high finance cosmopolitan electorate mixed with a trendy hip-hop culture pitted against the grits and corn-pone values of traditionally conservative small-town Georgia.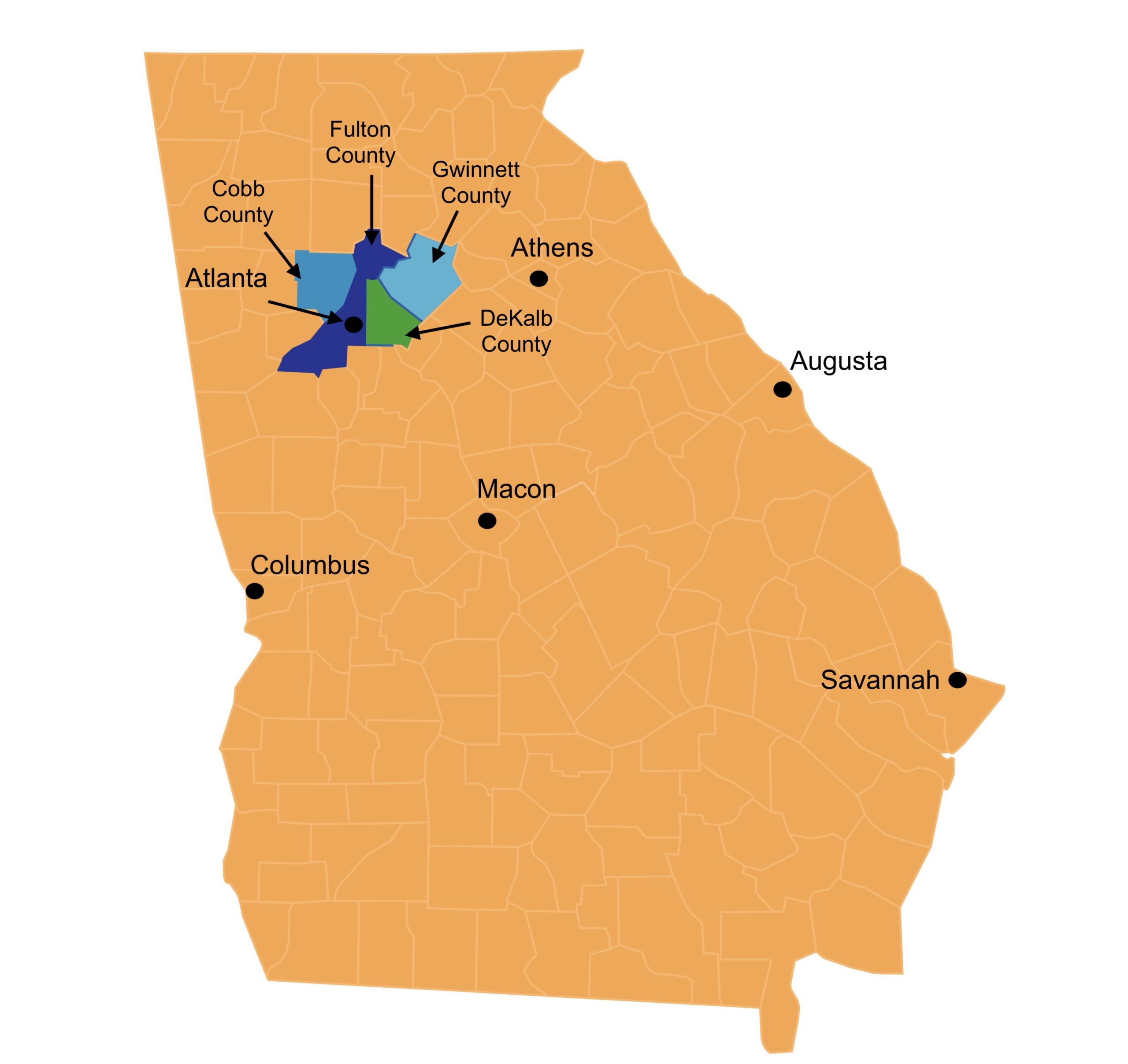 In the past decade, Georgia has added two million people, immigrants from everywhere, so that the electorate is now 10 percent foreign-born and 40 percent non-white. The political power of urban Atlanta is buttressed by densely-populated suburban collar counties, where college-educated women have become a potent political force along with assertive black voting rights movements.
Political leaders like Stacey Abrams, the black legislator who in 2018 came within 55,000 votes of getting elected governor of Georgia, have put on a full-court press for the past two years to arouse, register, and mobilize hundreds of thousands of new minority voters who helped Biden win and force the Senate runoffs.
To capture Georgia's two Senate seats, Democratic challengers have to roll up huge majorities in the four metropolitan counties surrounding Atlanta – Fulton, Cobb, DeKalb, and Gwinnett – as well as gaining solid majorities in mid-sized cities like Athens, Augusta, Columbus, Macon, and Savannah. Democrats did that on Nov. 3. But they have to do even better in the runoff elections to reverse the Republican dominance of statewide elections in Georgia over the past two decades.
"We know this is going to be a hard fight," says Abrams who is already mobilizing and raising millions of dollars for the January vote. "This is going to be the determining factor of whether we have access to healthcare and access to Justice…to make certain that Joe Biden has the support and the congressional mandate he needs to move the country forward."
The New Georgia: An Inflection Point
The tectonic shifts in Georgia's electorate plus a huge mail and early vote by four million Georgians enabled Joe Biden to pull off something of a political miracle on Nov 3, becoming the first Democratic presidential nominee to carry Georgia since Bill Clinton did it in 1992. Biden's margin of victory was razor thin – about 14 thousand votes out of nearly five million votes cast. Just one-quarter of one percent, assuming it survives the mandatory recount.
But while Biden was winning the top race, Republicans were doing better down-ballot in the U.S. Senate races. In the first round, on November 3rd, pro-Trump incumbent Republican Senator David Perdue rolled up a near-90,000 advantage over his young Democratic challenger, Jon Ossoff. And in the other Senate race, which was a jungle primary with 21 candidates vying for Republican Kelly Loeffler's seat, the combined Republican total vote outpolled the combined Democratic total by 55,000 votes.
These were hot races, attracting staggering sums of campaign money – more than $150 million in the Perdue-Ossoff race and another $70 million in the battle over Kelly Loeffler's seat, to which she was appointed just last January. Neither Republican scored a knockout win and so both were forced into the January 5 runoff election.
Candidates Embody  Two Faces of America
What makes these races so compelling is that the candidates embody the opposing pairs of candidates embody two faces of American today.
Both Republican candidates, Senators Perdue and Loeffler, are millionaire representatives of pro-Trump business elite. Perdue is a former CEO of Reebok and Dollar General, and Loeffler is co-owner with her husband of a $500 million stake in the parent company of the New York Stock Exchange
Running against Loeffler is the Reverend Raphael Warnock, the senior minister since 2005 of Atlanta's famous Ebenezer Baptist Church, the home church of Martin Luther King Jr. Pastor Warnock is an unabashed advocate of voting rights, civil rights, a livable wage, and Medicaid for poor Georgians, and once went to jail for protesting on their behalf.
His running partner, Jon Ossoff is an upstart, 33-year-old investigative journalist-turned-politician – a Joe Biden moderate not a Bernie Sanders progressive – who advocates expanding Obamacare,  environmental protections, social justice, and higher wages, but makes clear that he does not embrace the Green New Deal, Medicare for All or defunding the police.
On the stump, Ossoff exudes optimism and mocks Perdue for not daring to debate him. "We have the wind at our backs and a great sense of promise and opportunity here," Ossoff proclaims. Hard-nosed Republican strategists, emphasizing that republicans have easily dominated the state since 2000, counter that the GOP will muster $200 million if necessary to quell the Democratic insurgents.
But the Republican candidates themselves, Perdue and Loeffler, betray some angst about the runoff. They have issued a joint statement calling for the resignation of Georgia's Republican Secretary of State, complaining, like President Trump, of unspecified "failures" in Georgia's election process.  Secretary of State Brad Raffensperger dismissed their charges as "laughable" and refused to resign.
Suggesting that his fellow Republicans were frustrated at being forced into runoff elections, Raffensperger insisted that Georgia's Nov 3 election and vote count had been a "resounding success" – transparent, fair, and done to the letter of the law. Later, Raffensperger revealed intense pressure from angry Republicans demanding that he change ballot counts to favor Trump, including death threats to him and his wife. He quoted one text message on Georgia's recount of the presidential vote as warning:  "You'd better not botch this recount. Your life depends on it."
Tensions are mounting, too, over the twin Senate runoff elections. These races are shaping up as tough and tight. Stay tuned.